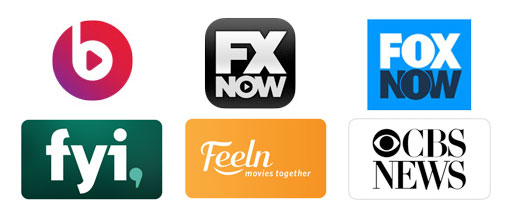 We like to keep our list of Apple TV channels updated, so here's a breakdown of several new additions to the streaming media platform since our last article. Subscription and authentication requirements are noted if applicable.
Beats Music is a music channel that lets you stream unlimited, ad-free music with curatorial help for new song suggestions. A subscription and 3rd-generation Apple TV or newer is required.
CBS News provides 24-hour news updates from Watch CBSN, as well as on-demand video from CBS shows such as CBS Evening News, 60 Minutes, and Face the Nation.
Feeln is a channel from Hallmark that brings family movies to Apple TV, with blockbusters, classics, and original short films for all ages. A paid subscription is required for access.
FX Now combines programming from three channels: FX, FXX and FXM into one app, including TV shows such as American Horror Story: Freak Show, Sons of Anarchy and The Simpsons, as well as movies like Safe House, Thor, and Transformers 3: Dark of the Moon. Authentication is required through a service provider. New TV shows are available the day after airing.
FYI is A&E's new lifestyle network that brings shows such as Epic Meal Empire, Married at First Sight, and Tiny House Nation. Some content is provided free-of-charge, while additional content is only available for those who subscribe to the channel through a service provider.
Other apps recently added over last summer include FOX Now,  NFL Now, and Showtime Anytime.
Here's a link to the full list of Apple TV channels for easy reference.