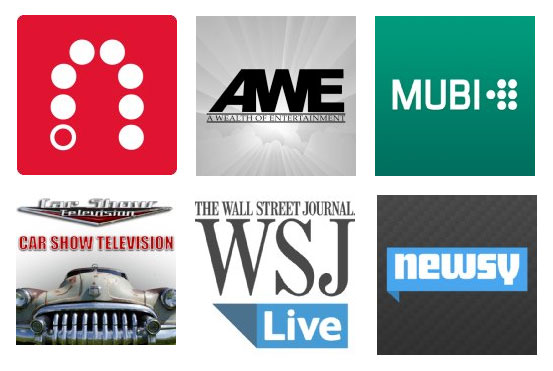 Wondering what new channel apps are available for Amazon's Fire TV streaming media player? There are several that have recently been launched in the Amazon App Store including WSJ Live, Slingplayer for Fire TV, and the online cinema platform MUBI. The apps are all free to download to the Fire TV or Fire TV Stick, however some require a subscription to view content.
WSJ Live streams breaking news videos, interviews, and coverage of the world of business, finance, lifestyle, and technology. The app also casts the most watched videos from WSJ.com, MarketWatch and Barron's. In addition, WSJ Live provides access to the entire video archive of The Wall Street Journal.
Slingplayer for Fire TV lets you watch your home TV and DVR from anywhere with a Fire TV media player or Fire TV Stick connected to Wi-Fi. Compatible Slingboxes with the Slingplayer for Fire TV app include the Slingbox 500, Slingbox M1, and Slingbox 350. The app also lets you control your DVR, pause/rewind/fast-forward, and watch your favorite live and recorded shows.
AWE offers live 24/7 streaming of lifestyle & entertainment programming, including culinary, cars, fashion, news, & other lifestyle topics.
MUBI streams a hand-picked selection of films for $4.99 a month. The service lets you pause and resume films on different devices, and download and save films for watching later while offline. The service offers unlimited streaming of films, and one new film a day that can be watched for 30 days.
Car Show Television is a weekly show that covers cars across the country including muscle cars, street rods, exotics, antiques, and collectables. The reality show takes you to 2-4 car shows looking for the most interesting, unique, custom, and historical cars. A subscription to the channel costs $1.99 per month.
Finally, Newsy: Video News brings you the most important news stories of the day, with continuous play and a custom play queue to create your own custom newscast.
For all options, refer to this list of channels for Fire TV.