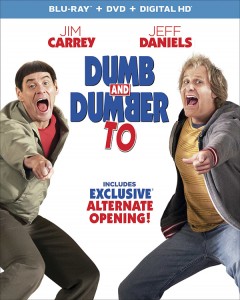 Strike while the iron is hot, they say. Dumb and Dumber To may not have received the highest ratings from critics, but Universal Pictures can certainly capitalize on some of the lingering media hype about the anticipated comedy from Peter and Bobby Farrelly. In Dumb and Dumber To, Jim Carrey and Jeff Daniels return in the sequel to Dumb and Dumber (1995), twenty years after the original film was released.
Universal has scheduled an early digital release of the film on February 3rd, 2015, followed two weeks later by the Blu-ray, DVD, and On Demand availability starting Tuesday, February 17th.
A 2-Disc Combo edition will include a Blu-ray Disc, DVD, and Digital HD copy via UltraViolet. Exclusive Blu-ray content includes an alternate ending, deleted and extended scenes, gag reel, and featurette "What's so Smart about Dumb and Dumber To?"
On both the Blu-ray and DVD editions, Universal has packed five chapters of "making of' bonus material starting with "Chapter 1 – "I Like it a Lot" – The Beginning" and ending with "Chapter 5 – "There's No Diamonds In Here" – The Editorial."
The Blu-ray Disc is formatted in 1080p, with a 1.85:1 widescreen aspect ratio and English DTS-HD Master Audio 5.1/Dolby Digital 2.0 audio options. The DVD is formatted in 480p with Anamorphic Widescreen 1.85:1 and English Dolby Digital 5.1/Dolby Digital 2.0 audio.