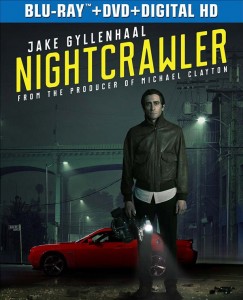 Universal Pictures has announced release dates for the action thriller Nightcrawler to home media formats. The film will first be released only to Digital HD on January 27th, 2015, followed by Blu-ray Disc and DVD formats on February 10th, 2015.
The best deal might be the Blu-ray Combo Edition that includes the film on Blu-ray Disc, DVD, and Digital HD via UltraViolet. The BD is formatted in 2.40:1 widescreen aspect ratio, with audio in English DTS-HD Master Audio 5.1, Dolby Digital 2.0, and DTS Digital Surround 5.1.
The DVD is formatted in anamorphic widescreen 2.40:1 English Dolby Digital 5.1 / DVS DD 2.0, as well as DTS Digital Surround 5.1.
Both the Blu-ray and DVD contain the behind-the-scenes making of Nightcrawler "If It Bleeds, It Leads," and feature commentary with writer/director Dan Gilroy, producer Tony Gilroy, and editor John Gilroy.
Nightcrawler stars Jake Gyllenhaal (End of Watch, Zodiac) as Lou Bloom, a freelance cameraman addicted to the high-speed world of L.A. crime journalism. The film was directed and written by Dan Gilroy (The Bourne Legacy, screenplay).