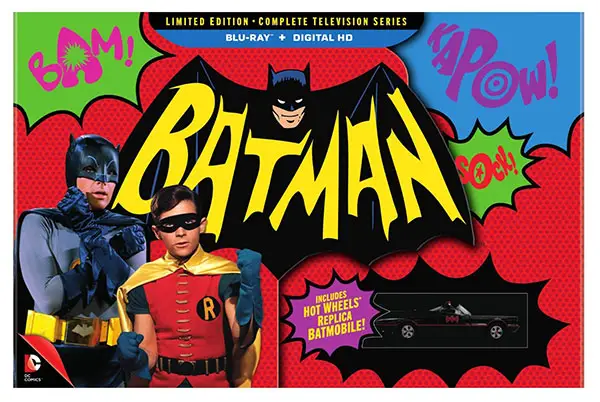 Today is Veterans Day, 2014, and with the holiday comes some great new Blu-ray and Digital HD releases. Let's start with How to Train Your Dragon 2 from 20th Century Fox. The film comes in a multi-format combo edition with Blu-ray Disc, DVD and Digital HD copy via UltraViolet. The release also comes with the 26-minute "Dawn of the Dragon Races" and several other featurettes and bonus material.
Jersey Boys, Clint Eastwood's tale of 1960s rock group The Four Seasons, is also now available in a Blu-ray Disc combo from Warner Home Video that includes BD, DVD and Digital HD copy via UltraViolet. The film stars John Lloyd Young, Erich Bergen, Michael Lomenda and Christopher Walken.
And, Warner has also released Batman The Complete TV Series Limited Edition with all 120 episodes of the show that ran from 1966 – 1968. The edition brings the vintage Batman shows to high-definition for the first time, with over 3 hours of new extra material and collectible items such as a Hot Wheels replica Batmobile, Adam West Scrapbook, vintage trading cards, and 32-page episode guide. Perhaps the most exciting part of this release are the UltraViolet digital copies of each episode that you can watch on multiple devices.
Other exciting releases today include True Blood Season 7, Star Wars: The Clone Wars: The Lost Missions, Let's Be Cops, and Sons of Anarchy: Seasons 1-6.
Check out our picks for the week below that indicate digital copies via UltraViolet and/or iTunes below.
New Blu-ray Disc & Digital HD releases, November 11, 2014
How to Train Your Dragon 2 (Blu-ray Disc, DVD, Digital HD w/UV)
Batman The Complete TV Series Limited Edition (Blu-ray Disc, DVD, Digital HD w/UV)
Jersey Boys (Blu-ray Disc, DVD, Digital HD w/UV)
True Blood: The Complete Seventh Season (Blu-ray, Digital HD w/UV & iTunes)
True Blood: The Complete Series (Blu-ray, Digital HD w/UV & iTunes)
Star Wars: The Clone Wars: The Lost Missions (Blu-ray)
Tammy Extended Cut (Blu-ray Disc, DVD, Digital HD w/UV)
Sailor Moon Season 1 Part 1 (Blu-ray, DVD)
Let's Be Cops (Blu-ray, Digital HD w/UV & iTunes)
Monty Python Live : One Down, Five to Go ( Blu-ray)
ThunderCats: The Complete Series (Blu-ray)
Sons of Anarchy: Seasons 1-6 (17 Blu-ray Discs)
Sands of Iwo Jima (1949) (Blu-ray Disc)
The Shooting/Ride in the Whirlwind – Criterion Collection (1966) (Blu-ray Disc)
Iceman (Blu-ray Disc)
Gator (1976) (Blu-ray Disc)
Avengers Season 5 (1966) (Blu-ray Disc, Digital HD)
Advertisement: New Blu-ray Disc & Digital HD releases at Amazon