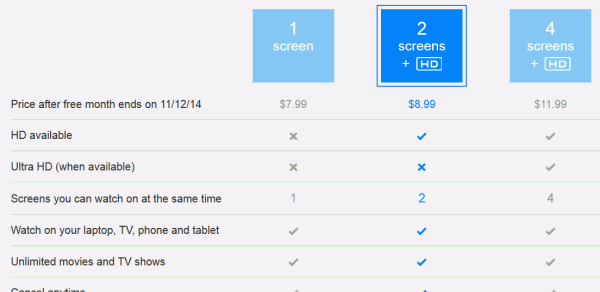 Netflix subscribers who want to stream in 4k video now need to pay more for the service. As the graphic above points out, the $11.99 per month "4-Screens + HD" is required for Ultra HD playback of shows such as "Breaking Bad," "House of Cards," and "The Blacklist." Movie titles currently available in 4k include "Ghostbusters," "Ghostbusters 2″ and "Smurfs 2," as well as the 4-part "Moving Art" nature documentary series. Netflix is also producing a lineup of new original shows in 4k.
Considering the amount of bandwidth 4k video demands (about 7 GB of data per hour) and the cost to produce 4k content, the rate hike for new members and current subscribers who want to start streaming in 4k seems justified. Netflix recommends at least 25 Mbps to stream in 4k, which is about 5-times as many bits as the recommended 5 Mbps for HD quality.
One might wonder why Netflix doesn't have the subscription rates simply tiered by video quality. In other words, those only streaming in SD (up to 480p) could sign up for the lowest rate, those who want HD (720p) pay for the next tier, and so on. But the service plans do seem to be tiered by data usage, capped by the number of screens to watch on.
Last spring, Netflix raised the rate for new subscriptions to $8.99 from $7.99 per month, claiming the increase was needed to acquire more titles.
Source: HD Guru