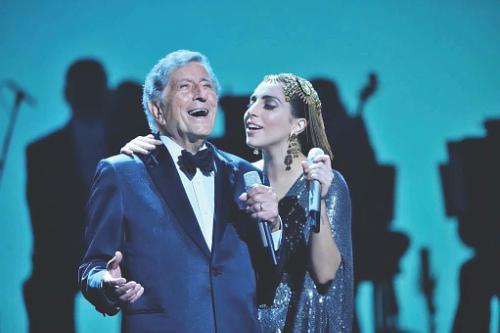 As if the music collaboration between Tony Bennett and Lady Gaga isn't enough to peak your curiosity, LG and Amazon have teamed up to stream the recently recorded "Cheek to Cheek LIVE!" concert over the Amazon Instant Video platform in 4k resolution. LG was the official Ultra HD sponsor of the event, and customers who own an LG 4K TV with the Smart TV+ webOS platform or compatible Ultra HD TV will be able to stream the concert in full 4k resolution through the Amazon Instant Video app.
Best of all, it seems Amazon Instant Video customers will be able to stream the concert at no additional cost. The "Cheek to Cheek LIVE!" concert will also air in high-definition nationwide on PBS as part of their "Great Performances" series. We don't have an exact date for when the 4k stream will be available, but PBS has the concert scheduled to air on October 24th.
The "Tony Bennett & Lady Gaga: Cheek to Cheek LIVE!" concert was recorded in 4k resolution at Jazz at Lincoln Center's Frederick P. Rose Hall in New York on July 28, 2014.
The concert is certainly something 4k TV owners can look forward to, in addition to next season's episodes of House of Cards, and hopefully some FIFA World Cup matches  that Sony recorded in 4k last summer.
LG recently released a lineup of new 4k Ultra HD TVs with prices ranging from $999 to $100k.