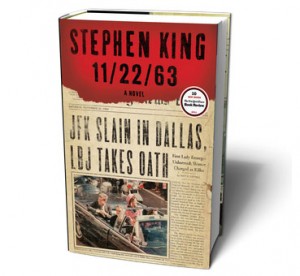 Hulu announced they have greenlit a new original mini-series based on the novel 11/22/63 by Stephen King. The show will explore the day former President John F. Kennedy was shot in Dallas, Texas, and ask the question "What if?" throughout the series. According to the Hulu announcement, 11/22/63 will "go beyond the concept of time travel" in its explorations.
11/22/63 will be produced by J.J. Abrams' Bad Robot Productions, along with Producer/Writer Bridget Carpenter and Warner Bros. Television.
Stephen King is a widely renowned and award-winning author of books such Carrie, The Shining, The Dark Tower, and Under the Dome. Bad Robot Productions is J.J. Abrams' privately-held production company that has developed television series such as Alias, Fringe, Lost, and Revolution. Many of those shows have been co-produced shows with Warner Bros. Television including Almost Human (2013-2014), Fringe (2008-2013), Revolution (2012-2014), and Person of Interest (2011-present) among others.
Other Hulu originals include Deadbeat, East Los High, The Awesomes, and The Only Way Is Essex. The company is a joint venture owned by FOX, NBCUniversal, and Disney.