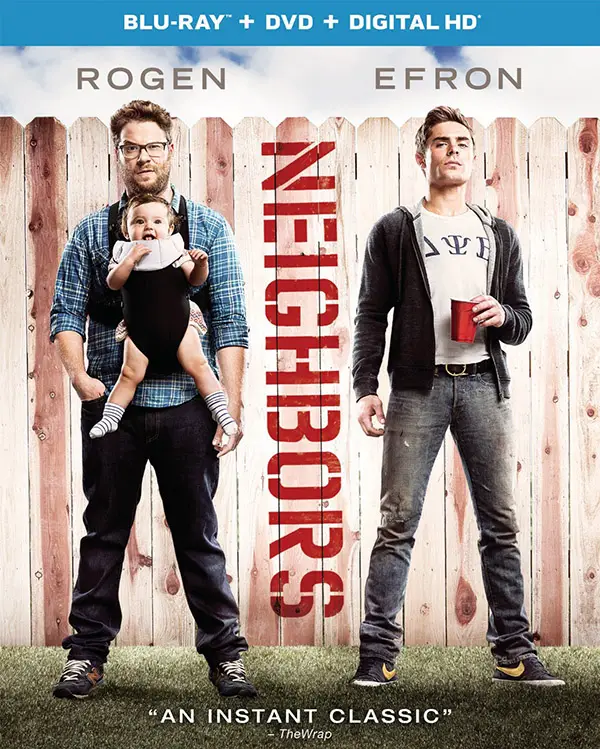 Want to know what's new on Blu-ray, DVD and Digital releases week? Neighbors is now available in a 2-Disc collection with Blu-ray, DVD, and Digital HD copy. The nice thing about this Universal Studios combo is the digital copies can be redeemed via UltraViolet or Apple iTunes. The edition also includes deleted and alternate scenes, gag reel, alternate opening, and several featurettes.
Halloween: The Complete Collection Limited Deluxe Edition is a 15-Disc from Anchor Bay that contains every Halloween film, along with bonus material, never before seen bonus features, and a never before released Producer's Cut of Halloween 6: The Curse of Michael Myers.
And, to further get you prepped for Halloween next month, Lions Gate has released Saw: The Complete Movie Collection with all seven unrated films on three Blu-ray Discs. The collection also includes digital copies of the films via UltraViolet access code.
Check out our picks for the week below, organized by Films, TV Shows, and Concerts.
New Blu-ray, DVD and Digital HD releases Sept. 23, 2014
Films
Neighbors

(Blu-ray, DVD, Digital HD w/UV & iTunes)

Halloween: The Complete Collection Limited Deluxe Edition

(15-Discs)

Attack on Titan, Part 2

Saw: The Complete Movie Collection

(Blu-ray, Digital HD)

Exorcist: Complete Anthology

The Signal

(Blu-ray, DVD, Digital HD w/UV & iTunes)

Macbeth

(1971)

The Innocents – Criterion Collection

(1961)

The Best of Sting

Run Silent, Run Deep

(1958)

Elmer Gantry

(1960)

Attack on Titan, Part 2

(Blu-ray, DVD)

Taras Bulba

(1962)

Stagefright

(1987)

Young Savages

(1961)

Distant Drums (1951)

South of St Louis

(1949)

Bloody Mama

(1970)

Exorcist III: Legion

Exorcist 2: The Heretic

Exorcist: The Beginning

Ida

The Last of the Unjust

Very Good Girls
TV Shows
Defiance: Season 2

(Blu-ray, Digital HD w/UV)

The 100: Season 1

(Blu-ray, Digital HD w/UV)

The Rover

(Blu-ray, Digital HD)

Attack on Titan, Part 2

(Blu-ray, DVD Combo)

Key & Peele: Season 3

Panty & Stocking With Garterbelt: Complete Series Classic

Strike Back: Cinemax Season 1
Concerts
Songs From Tsongas 35th Anniversary Concert

Verdi: Il Trovatore

Metal Veins – Alive At Rock In Rio (Sepultura)

Donizetti: L'elisir d'amore