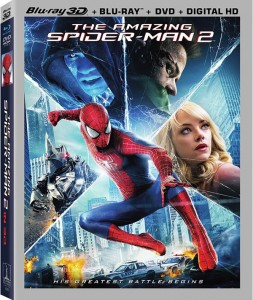 This week's blockbuster release The Amazing Spider-Man 2 is available in two different combo packs from Sony, one with a 3D copy of the film and the other without. However, both Blu-ray combo packs include DVD and Digital HD copies, as well as 9 deleted scenes with commentary, over 100 minutes of featurettes, and the Alicia Keys video "It's On Again." Several exclusive Blu-ray editions of the film have also been released from retailers including Amazon, Best Buy, Target and Walmart.
The 22-episode third season of Once Upon A Time is now available on Blu-ray Disc in a 5-Disc collection from ABC. The boxed set comes with several bonus features such as "Inside the Writer's Room," deleted scenes, and several featurettes. There's also a DVD edition that costs about $10 less than the Blu-ray, however, neither edition comes with digital copies of the season. The adventure/fantasy series stars Ginnifer Goodwin, Jennifer Morrison, and Lana Parrilla.
And, HBO's original series Boardwalk Empire: Season 4 is available in a 4-Disc Blu-ray collection that includes Digital HD copies through UltraViolet or iTunes, and plenty of bonus material including commentaries. Season 4 is also available on DVD for a few bucks cheaper but does not include digital copies. The Golden Globe-winning show stars Steve Buscemi, Kelly Macdonald and Michael K. Williams.
Here are our picks for the week.
New on Blu-ray Disc, DVD & Digital HD, Aug. 19, 2014
The Amazing Spider-Man 2 (Blu-ray 3D, Blu-ray, DVD, Digital HD)
The Amazing Spider-Man 2 (Blu-ray, DVD, Digital HD)
Once Upon A Time: Season 3
Boardwalk Empire: Season 4 (Blu-ray/Digital HD w/UV & iTunes)
Revolution: Season 2 (Blu-ray/DVD/Digital HD w/UV)
Toy Story of Terror
Only Lovers Left Alive
Scooby-Doo: Frankencreepy
Y tu mamá también
Leviathan
The Quiet Ones
Dance of Reality
Spirits: Live – Live at the Buckhead Theater Atlanta – Justin Hayward
Thick As a Brick Live in Iceland – Jethro Tull's Ian Anderson
Jarhead 2: Field of Fire – Unrated Edition (Blu-ray/DVD/Digital HD w/UV)
Tie Me Up! Tie Me Down! (Blu-ray/DVD)
DVD Only
NCIS: Season 11

NCIS: Los Angeles: Season 5

The Good Wife: Season 5

Newhart: Season 4 

Parks & Recreation: Season 6 

The Mindy Project: Season 2 

Parenthood: Season 5