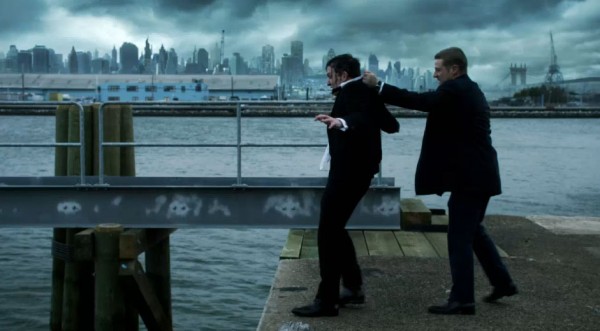 "Gotham" is an upcoming DC Comics origin series set in the city of Gotham before the arrival of Batman. Rather than focusing on the DC superhero himself, the show will revolve around Jim Gordon, played by Ben McKenzie, a rookie detective within the Gotham City Police Department. He works along his partner and mentor Harvey Bullock (played by "Sons of Anarchy's" Donal Logue), to solve the high-profile murder of Thomas and Martha Wayne.
Jim Gordon inevitably meets Bruce Wayne and forms an unlikely friendship with the future Dark Knight. Although a young Bruce Wayne will be play a role in the series, the show's creator, Bruno Heller stated that Batman will not be making an appearance.
"Gotham" will lean heavily on the origins of Batman's most nefarious villains in a Pre-Batman world. Catwoman, played by Camren Bicondova, is a teenage orphan living on the streets who steals to survive. While the Riddler, played by Cory Michael Smith, works for the Gotham City Police Department as a forensic scientist.
A new adversary has been created just for the show to tantalize Jim Gordon as he sinks deeper into Gotham's underworld. Fish Mooney, played by Jada Pinkett Smith, is a fearsome nightclub owner and crime boss. At her right hand sits Oswald Cobblepot, played by Robin Lord Taylor, who will eventually become the Penguin.
How Cobblepot develops from Fish Mooney's henchman into one of Batman's oldest enemies is anyone's guess. All we can do is remember that fish are a staple part of a penguin's diet.
Whether or not "Gotham" will tie into Christopher Nolan's Batman remains to be seen. It's more likely we'll see references to the next installment of Batman from the "Batman vs. Superman" movie rumored to release in 2016.
Rather than being a straightforward superhero show, "Gotham" plays out as a cop/drama with the origins of Detective Gordon at the center. Not only will we see Batman's deadliest foes rise, but Detective Gordon's transformation from rookie detective into Gotham's prominent Police Commissioner.
"Gotham" will premiere on Monday, September 22 on FOX. The network broadcasts in 720p (HD) and 480i (SD).