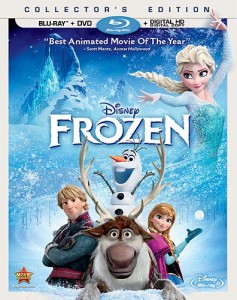 Twice a year we do a poll of our readers to determine what is the best Blu-ray Disc release —  once at mid-year and the second at the end of the year. In our results, only 5 of the 15 titles polled received over 10-percent of the votes, which was a bit of a surprise given some of the great titles released this year.
Poll-takers named Disney's Frozen the "Best Blu-ray Disc So Far This Year," with 20% of the total votes.
Coming in Second Place was Peter Jackson's The Hobbit: The Desolation of Smaug with 17-percent of the votes. In Third Place was The Hunger Games: Catching Fire with 16-percent of the votes.
In Fourth and Fifth Place were Lone Survivor and HBO's Game of Thrones: Season 3 with 13-percent and 10-percent of votes, respectively.
Titles we thought would rank much higher but received less than 10-percent of votes were House of Cards: Season 2 (maybe everyone's just watching the series on Netflix), and the Oscar-winning films The Wolf of Wall Street and American Hustle.
Thanks everyone who voted!
Best Blu-ray Disc So Far in 2014
Frozen – 20%

The Hobbit: The Desolation of Smaug – 17%

The Hunger Games: Catching Fire – 16%

Lone Survivor – 13%

Game of Thrones: Season 3 – 10%

The LEGO Movie – 7%

The Wolf of Wall Street – 4%

American Hustle / House of Cards: Season 2 – 3% (Tied)

Orange Is the New Black: Season 1 – 2%

Non-Stop – 1.5%