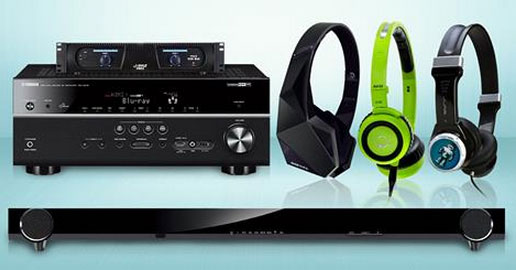 Amazon is currently offering up to 50-percent off products in Home Audio & Headphones. The sale will last until 11:59 PM Pacific Time on June 30, 2014 or while supplies last. Brands on sale include Yamaha, Monster, Onkyo, Pioneer, and JLab. Here's just a taste what the limited-time sale is offering:
Yamaha RX-V675 7.2 Channel Network AV Receiver with Airplay – List: 

$649.95

Price:

$379.95

Pioneer VSX-1123 7.2-Channel Network A/V Receiver – List:

$629.00

 Price:

$349.00

Monster Diesel VEKTR On-Ear Headphones with Apple ControlTalk – List: 

$229.95

Price:

$75.95

Monster DNA In-Ear Headphones with Apple Control Talk – List: 

$119.95

Price:

$48.99

Koss KTXPRO1 Titanium Portable Headphones with Volume Control –

List:

 $19.99

Price:

$9.99
For more products and details, jump over to Amazon while the sale lasts.