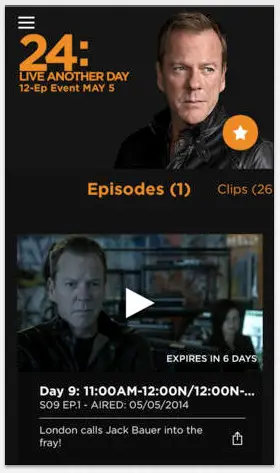 The Fox Now app from Fox Broadcasting has been updated for both Android and Apple iOS devices, with bug fixes and additions of supporting TV providers. The app provides full episodes of current shows, clips, performances, and interviews. Many episodes are available the day after they air, even without logging in with a TV service subscription, such as "24: Live Another Day," "Cosmos: A Spacetime Odyssey," "Brooklyn Nine-Nine," and "Sleepy Hollow."
New supporting TV providers for both the Android version include Cox, Bright House, and Time Warner Cable. Already supported providers include Xfinity, AT&T U-verse, Verizon FiOS, Optimum, Suddenlink, Mediacom, and WOW!.
The Android app (Version 1.8.3), uploaded May 30, is an 8.7MB file that requires Android 2.3.3 or higher.
The iOS app (Version 2.0), was last updated on May 14 and requires iOS 7.0 or higher.
Both apps are free to download from either Google Play or Apple iTunes, but require authentication from your TV service provider for full access to content.