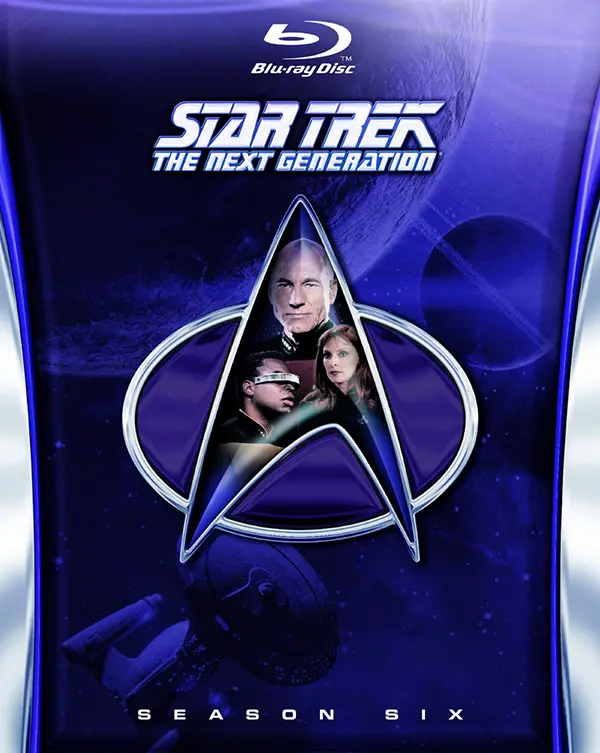 When Star Trek: The Next Generation – Season 6 releases to Blu-ray Disc on June 24, we'll be one season away from the entire series being released to high-definition. The first season of TNG on Blu-ray Disc was released two years ago on July 24, 2012, marking the 25th anniversary of the show's premiere in 1987. Fans of Star Trek and the long-running TNG series have been periodically given each season in sequence, with each episode transferred from the original film negatives to 1080p video and digitally remastered with a 7.1 DTS-HD Master Audio soundtrack.
Star Trek: The Next Generation – Season 6 is a 6-disc set from CBS Home Entertainment and Paramount Home Media that contains all episodes from the 1992/1993 season, starting with Episode 1 "Time's Arrow: Part 2" and ending with Episode 26 "Descent: Part 1." The package art (pictured above) has a purplish tint to it, following Paramount's tradition of coloring each TNG boxed-set a different hue.
As with the other season boxed-sets, Season 6 will contain some bonus material that has never been seen before, as well as content that has been pre-released to earlier DVD editions. We haven't been able to acquire full disc details yet, but will post when available.
Coincidentally, did you know you can watch full episodes of Star Trek: The Next Generation on the Star Trek website? As of this article, 161 ad-supported episodes are available to watch (although CBS should note that the season selector is not allowing users to sort the episodes).