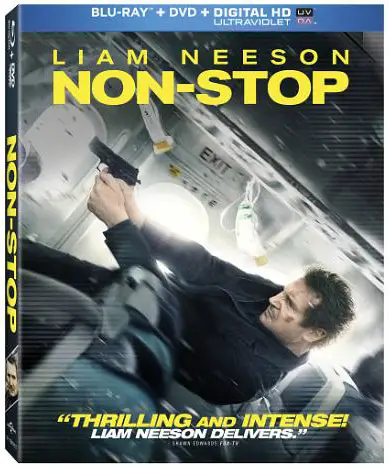 Universal Studios has announced the release dates for the action/thriller Non-Stop starring Liam Neeson and Julianne Moore. Now a trend in home media releases, Non-Stop will first be available to purchase in Digital HD on May 27, 2014. Two weeks later on June 10, the film will release to Blu-ray, DVD, UltraViolet, and On Demand. The best deal in town may be Universal's Blu-ray Combo Pack, that gives you three of those formats for one price; Blu-ray, DVD, and Digital HD copy via UltraViolet.
The Blu-ray Disc is formatted in 1080p video at 2.35:1 widescreen aspect ratio. Audio is provided in English DTS-HD Master Audio 5.1 and Dolby Digital 2.0, as well as Spanish and French in DTS Digital Surround 5.1. The DVD is formatted in 480p in anamorphic widescreen 2.40:1. Soundtrack is provided in English Dolby Digital 5.1 and 2.0, Spanish and French Dolby 5.1 
Extra material with the Non-Stop disc releases include the featurettes "Non-Stop Action" (Blu-ray only) and "Suspense at 40,000 Feet" (Blu-ray & DVD) in which crew, cast, producer and director discuss the making of the film.
In Non-Stop, Neeson plays a U.S. air marshal fighting to save a plane full of passengers trapped aboard a plane 40,000 feet in the air. The film was directed by Jaume Collet-Serra (Orphan) and produced by Joel Silver (The Matrix series). Along with Neeson and Moore, the film also stars Michelle Dockery ("Downton Abbey"), Academy Award winner Lupita Nyong'o (12 Years a Slave), Scoot McNairy (Argo), Linus Roache ("Vikings") and Corey Stoll ("House of Cards").