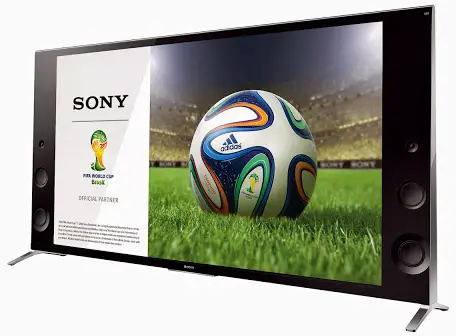 Sony has revealed pricing for their new line of BRAVIA 4K 'Ultra HD' TVs that will first be available in June. The XBR-X950B series will range in price from $7,999 (65-inch) to $24,999 (85-inch). The XBR-X900B series will retail for $3,999 (55-inch), $4,999 (65-inch) and $8,999 (79-inch). And, the four-model line XBR-X850B series will be priced at $2,099 (49-inch), $2,999 (55-inch), $3,999 (65-inch) and $5,499 (70-inch).
The 4k TVs feature Sony's 4K X Reality PRO picture engine for upscaling content, TRILUMINOS Display technology to produce lifelike color, and Sony's X-tended Dynamic Range PRO technology for a wide range of contrast.
For audio, Sony's new models incorporate ClearAudio+ digital signal processing for improved high-quality sound. And, an optional wireless subwoofer (model SWF-BR100) will give that extra punch that most on-display speaker systems can use.
The models support HDMI 2.0 for display of 4K/60p content, as well as the latest HEVC codec decoder for playback of streaming 4K/60p content. The 4k TVs also incorporate MHL 3.0 (Mobile High-Definition Link) for 4K output from smartphones and tablets.
If you're' willing to spend a bit more, Sony's flagship XBR-X950B series (in 65-inch and 85-inch classes) feature X-tended Dynamic Range PRO technology that utilizes direct LED arrays on the backside of the panel for a wider dynamic range of brightness. "PRO" is the key word here, as other models incorporate X-tended Dynamic Range technology but not exactly in the same way.
As far as content, the new Bravia Ultra HD TVs support 4K content from Sony's Video Unlimited 4K download service that now boasts over 200 digital titles in 4k. The TVs will also play 4k content from Netflix (who recently started streaming House of Cards in 4k) and other online services. In addition, FIFA plans to produce three full matches of the 2014 FIFA World Cup in 4k that will be viewable on the new sets. And, the Official 2014 FIIFA World Cup Film will be co-produced by Sony and FIFA in 4k.
"We strongly believe 4K is the future for entertainment and we remain committed to leading the 4K movement, from lens to living room," said Mike Fasulo, president at Sony Electronics.
Sony has begun pre-sales of the new line of BRAVIA 4k TVs at www.sony.com/4KTV.