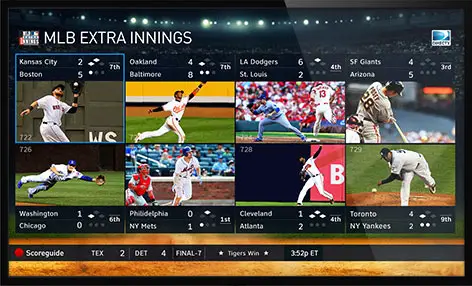 MLB is offering a preview of MLB Extra Innings this week starting today, March 31 and running through Sunday, April 6. The free preview comes just in time for today's Opening Day games, for which 13 games are scheduled. Last night, the San Diego Padres won the first night game of the season beating the Dodgers 3-1.
The MLB Extra Innings is an add-on to your television service package that adds up to 100 games per week on your TV, as well as MLB.TV on your PC and mobile devices. This year, MLB.TV includes live streaming of out-of-market games.
MLB Extra Innings with DirecTV costs an extra $32.99 per month for 6 months, or $197.94 in one lump payment for the entire season. The package with Comcast costs $47.25 for 4 months, and Verizon charges $199 for the season.
The premium MLB service is available with most cable and telecommunications TV service providers as listed below. Check with your provider for to see if you can get the free preview this week.
DirecTV

iN DEMAND Game

Bright House Networks

Cablevision (iO)

Charter Communications

Comcast

Cox Communications

Midcontinent Communications

RCN

Suddenlink Communications

Time Warner Cable

Verizon FiOS