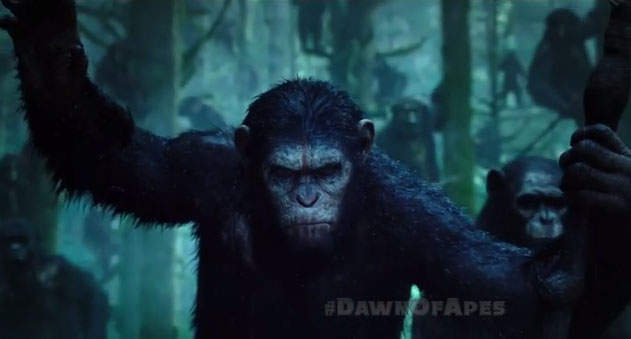 20th Century Fox has released the official TV Spot for Dawn Of The Planet Of The Apes coming to theaters in the US on July 11, 2014. The 30-second trailer gives you a glimpse of Caesar's army of apes and the destruction they cause in their attempt to dominate the Earth. Fox also released a longer official trailer about 3 months ago that has since been viewed close to 10 million times on the official YouTube channel alone.
Dawn Of The Planet Of The Apes was directed by Matt Reeves (Let Me In) and stars Gary Oldman, Keri Russell, and Andy Serkis. The film is the sequel to the 2011 film Rise of the Planet of the Apes, and is based on the science fiction franchise started in 1968 with the 20th Century Fox film Planet of the Apes.
In addition to traditional 2D theaters, Dawn Of The Planet Of The Apes will also be shown in RealD 3D and Digital 3D theaters worldwide. The film has not yet been rated by the Motion Picture Association of America.