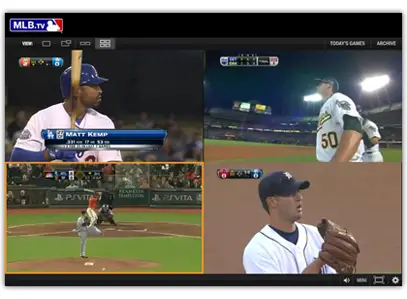 MLB.TV has promised us the MLB.TV app will launch for Xbox One consoles on opening day of the 2014 Major League Baseball season. An Xbox Live Gold subscription is required to download the app via the Xbox 360 or Xbox One console.
The MLB.TV Premium app provides HD video quality of every available regular season game (out-of-market) or On Demand through the Xbox 360 and soon the Xbox One. The app lets you choose Home or Away feeds, pause and rewind live games with DVR-like functions, and split the screen for multiple game viewing.
Keep in mind there are plenty of blackouts depending on market, so don't expect to get live viewing of your favorite local team. However, those games are usually made available 90 minutes after the game has ended.
MLB.TV offers both monthly and yearly levels of subscriptions:
MLB.TV Premium ($24.99 per month)

MLB.TV Premium ($129.99 per year)
Take note though that MLB.TV will automatically renew every year around March 1 until you cancel. The advantage, though, is you'll be billed for the prior year's full or month price if the subscriptions happen to go up.
The MLB.TV premium subscription also provides access to games via MLB.com At Bat.