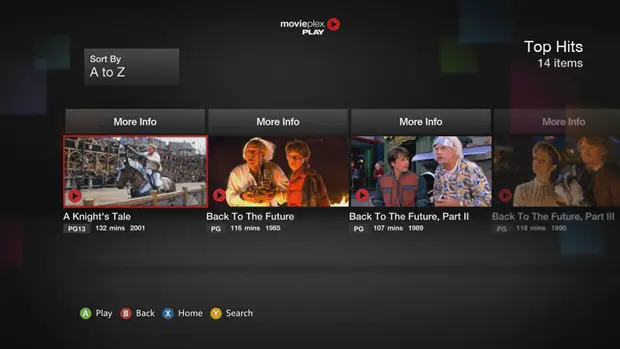 The Starz authenticated TV apps ENCORE PLAY and MOVIEPLEX PLAY have launched for the Xbox 360 today, joining the already available STARZ PLAY app through Microsoft's Xbox Live app store. The apps are free to download for Xbox Live Gold members and give users with Starz subscriptions unlimited access to approximately 1,500 movies and TV show titles.
In addition, Starz announced all three apps are in development to support Xbox One and expected to launch later this year.
The STARZ PLAY app for Xbox 360 was previously launched in Dec. 2013.
The STARZ PLAY, ENCORE PLAY, and MOVIEPLEX PLAY services are also available via web browsers on PCs and Macs, and through Android and iOS platform devices such as the Google Nexus 4, 7 and 10, Kindle Fire HD, Nook HD and HD+, and Apple iPhones and iPads.
Starz recommends a minimum required bandwidth of 1Mbps to utilize the services.
Also in Xbox One news, apps for the premium movie service EPIX and MLB.TV service are currently in development for release later this year.