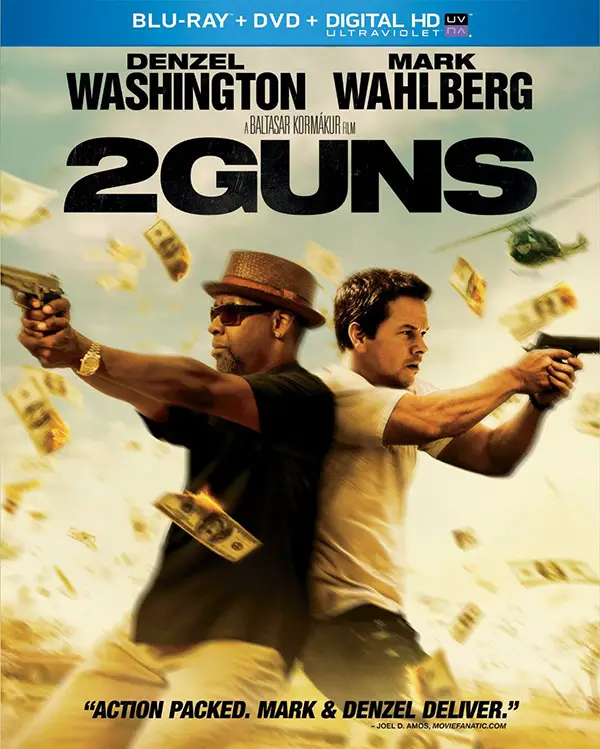 This week Disney's Planes hits shelves in two editions including a 3-Disc Combo with Blu-ray 3D, Blu-ray, DVD and Digital Copy. You can also pick up the 2-Disc Combo without the 3D copy for a little less money. The film is formatted in 1080p MPEG-4 video with a 7-Channel audio soundtrack in DTS-HD Master Audio 7.1.
2 Guns starring 2-time Oscar winner Denzel Washington and 2-time Oscar nominee Mark Wahlberg is now available on disc. The 2-Disc edition from Universal includes both Blu-ray Disc, DVD, and Digital UltraViolet Copy to download to your PC, tablet or phone. In 2 Guns, two uncover agents find themselves on the run after a failed drug sting.
The World's End also releases to Blu-ray this week from Universal Studios. The 2-Disc Combo includes Blu-ray, DVD and UltraViolet Digital Copy. Directed by Edgar Wright (Shaun of the Dead), The World's End is a sci-fi/comedy that stars Simon Pegg and Nick Frost.
And, Star Trek TNG fans can look forward to the release of Star Trek: The Next Generation – Season 5 on Blu-ray. The 6-Disc boxed set from Paramount includes all 26 episodes of the classic series created by Gene Roddenberry. This leaves only two more seasons of Star Trek TNG to be released for the first time in High Definition. And, for about $15 you should be able to pick up the 86-minute Star Trek: The Next Generation – Unification on Blu-ray, the two-part story from Season 5 (Episodes 7 & 8) that first aired in 1991 and features the return of Leonard Nimoy as Spock. Both new Star Trek releases include a DTS-HD Master Audio 7.1 over digitally remastered 1080p video.
Check out our picks below. And, as always, here's a link to all new Blu-ray Disc releases available at discounted prices from Amazon.com.
New on Blu-ray Disc, Nov. 19, 2013
Planes (3D)
2 Guns
The World's End
We're the Millers
Crossroads Guitar Festival (Eric Clapton)
Clockwork Angels Festival (Rush)
Star Trek: The Next Generation – Season 5
Lost Girl: Season Three
Night Of The Comet (Collector's Edition)
Tokyo Story (Criterion Collection)
Tank Girl (Collector's Edition)
Treme: The Complete Third Season
Assault On Precinct 13 (Collector's Edition)
Downton Abbey-Series 1-4