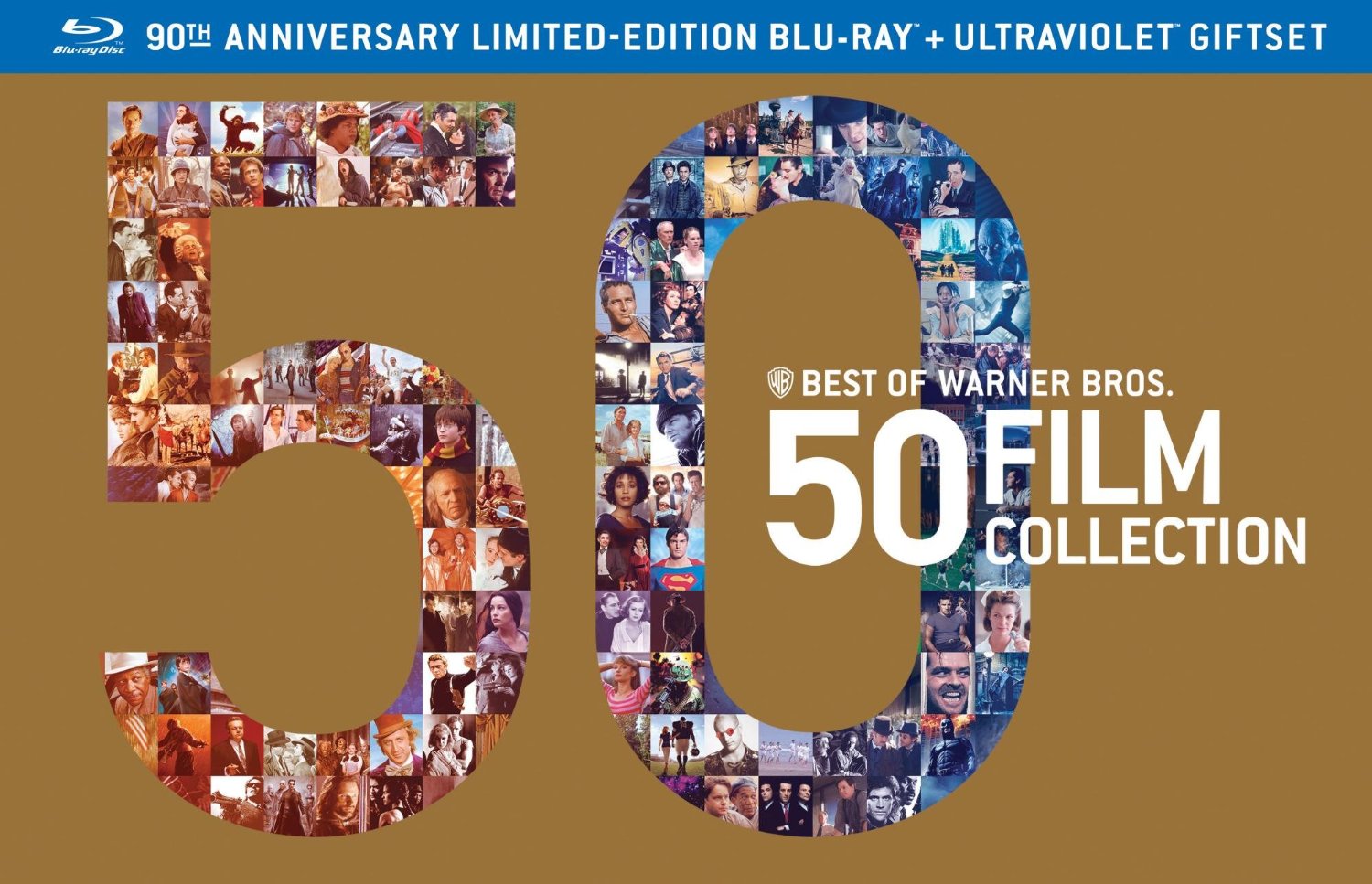 Looking for a great holiday gift for someone who loves movies? Amazon has got the Best of Warner Bros. 50 Film Collection on sale this week for just $179. The huge collection of movies is list-priced at close to $600, making this a savings of over $400! Among the 50 titles included are 16 Oscar Winning movies such as Amadeus, Chariots of Fire, Gone with the Wind, and Unforgiven. And, for those of you who love to watch movies on your computer, tablet or phone, the collection includes UltraViolet copies of each film that you can download from the cloud.

Two exclusive documentaries are also included in the Warner Bros. collection: "Tales from the Warner Bros. Lot," and "The Warner Bros. Lot Tour." Additional extras include hours of commentaries, behind-the-scenes featurettes, and additional bonus material for select films. There's also a limited edition 27″ x 40″ poster, and postcard series of Warner Bros. films.
The boxed set is the largest of its kind and priced at $179.99 this week only. See the list of titles below then jump to Amazon to order while supplies last.
Best of Warner Bros. 50 Film Collection:
Grand Hotel (1932)
Mutiny on the Bounty (1935)
Gone with the Wind (1939)
The Wizard of Oz (1939)
The Maltese Falcon (1941)
Mrs. Miniver (1942)
Casablanca (1942)
The Treasure of the Sierra Madre (1948)
An American in Paris (1951)
A Streetcar Named Desire (1951)
Singin' in the Rain (1952)
Gigi (1958)
Ben-Hur (1959)
North by Northwest (1959)
How the West Was Won (1962)
Doctor Zhivago (1965)
Cool Hand Luke (1967)
2001: A Space Odyssey (1968)
Bullitt (1968)
Dirty Harry (1971)
Willy Wonka & the Chocolate Factory (1971)
A Clockwork Orange (1971)
The Exorcist (1973)
One Flew Over the Cuckoo's Nest (1975)
Superman: The Movie (1978)
The Shining (1980)
Chariots of Fire (1981)
Risky Business (1983)
Amadeus (1984)
The Color Purple (1985)
Full Metal Jacket (1987)
Lethal Weapon (1987)
Driving Miss Daisy (1989)
GoodFellas (1990)
The Bodyguard (1992)
Unforgiven (1992)
Natural Born Killers (1994)
The Shawshank Redemption (1994)
The Matrix (1999)
Harry Potter and the Sorcerer's Stone (2001)
The Lord of the Rings: The Fellowship of the Ring (2001)
The Lord of the Rings: The Two Towers (2002)
The Lord of the Rings: The Return of the King (2003)
Million Dollar Baby (2004)
The Departed (2006)
The Dark Knight (2008)
The Blind Side (2009)
The Hangover (2009)
Sherlock Holmes (2009)
Inception (2010)