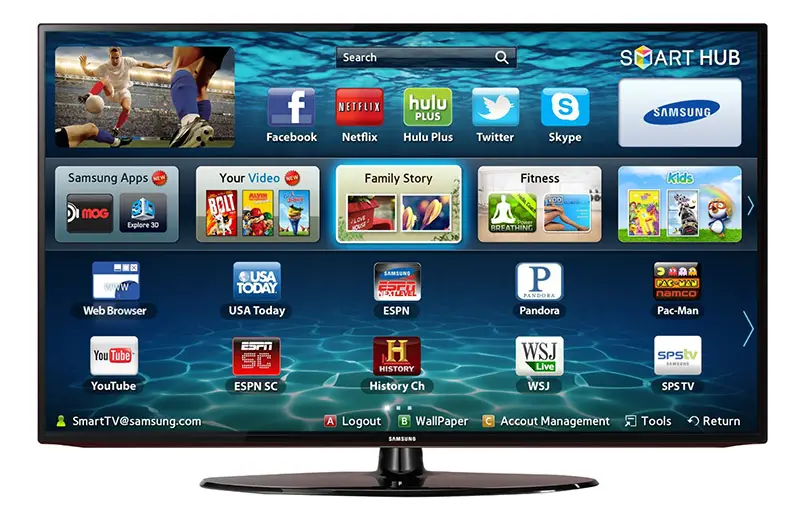 Amazon has taken an early jump on Black Friday, offering a large selection of products at discounts even before the big day occurs. In electronics, we found some great choices in HDTVs offered with heavy discounts. Some of the discounts, you'll notice, only appear when you "Add to Cart." (This has something to with manufacturers not allowing lower than agreed prices to be displayed up front.) For example, Amazon has got the Samsung UN32EH4003 32-inch HDTV for $239, but you'll only see the discounted price once you log-in to Amazon and add it to your cart.
For your convenience, we've listed some excellent prices on HDTVs that include 3D, Smart TV, and Wi-Fi – what we find to be essential features of any new HDTV. Amazon has even got a couple Samsung 4k 'Ultra HD' TVs listed in the Black Friday deals. If you want to see everything Amazon has in their early Black Friday selections, jump to Amazon to see all Television & Video categories including HDTVs, Blu-ray Disc players, Projectors, and Audio components.
Early Black Friday HDTV Deals at Amazon
Smart TV and 3D TVs
Samsung UN50EH5300 50″ 1080p 60Hz LED HDTV –

$746.35

(List: $1,119)
LG Electronics 50LN5700 50″ 1080p 120Hz LED-LCD HDTV with Smart TV –

$734.55

(List: $1,299)
Samsung UN55FH6030 55″ 1080p 120Hz 3D LED HDTV –

$897.99

(Lists: $1,499)
Samsung UN75F6400 75″ 1080p 120Hz 3D Slim Smart LED HDTV –

$3,497.99

(List: $5,999)
Panasonic TC-L55ET60 55″ 1080p 120Hz Smart 3D IPS LED HDTV (Includes 2 Pairs of 3D Polarized Glasses) –

$899

(List: $1,699)
Toshiba 58L7350U 58″ 1080p 240Hz 3D Smart LED HDTV –

$1,296.99

(List: $2,199)
4K 'Ultra HD' TVs
Samsung UN65F9000 65″ 4K Ultra HD 120Hz 3D Smart LED TV –

$4,997.99

(List: $8,499)
Samsung UN55F9000 55″ 4K Ultra HD 120Hz 3D Smart LED TV –

$3,497.99

(List: $6,499)
Some of the items listed above are limited in stock, and prices may change. This list will be updated with new items, so bookmark this page and be sure to check back soon. Here's another link to Amazon's early Black Friday Deals in TV and Video.