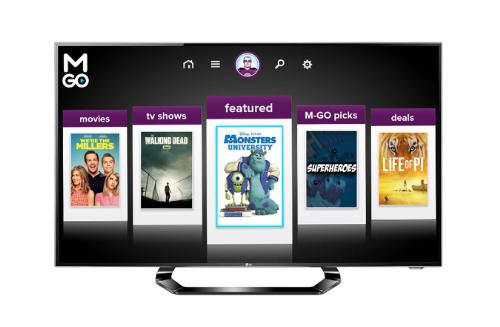 The M-GO streaming video app is now available for LG Smart TV models, providing à la carte viewing of movies and TV shows from the M-GO digital library. M-GO boasts earlier availability of blockbuster movies than subscription-based streaming services such as Netflix and Amazon Prime Instant Video. Popular movies currently on M-GO include Grown Ups 2, The Internship, Monsters University and White House Down. New movies typically cost from $4.99-$5.99 (HD) or $3.99-$4.99 (SD). Older titles start at $1.99 in standard resolution. Movies can also be purchased from M-GO for download.
The M-GO app is part of the newest software update for 2012 and 2013 model LG Smart TVs. Once your Smart TV is updated, you'll be able to find the app on the Smart TV homepage. M-GO is offering two free rentals of SD or HD movies for LGTV owners by using the code "LGTV" upon checkout. (Other new users can also get two free rentals by using the code "2MOVIES".)
Like Netflix's personal profiles, M-GO lets you set up to six profiles per M-GO account. M-GO also allows parents to set up spending limits for kids.