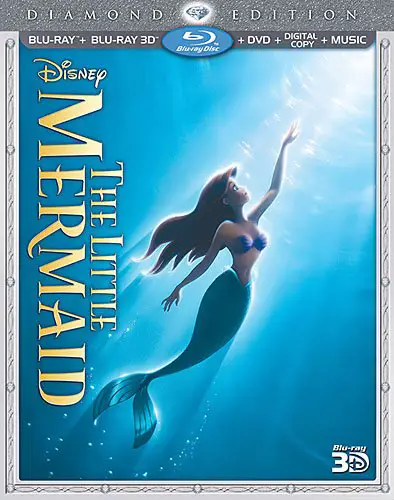 The week belongs to Disney's The Little Mermaid, or so it would seem, with four different Blu-ray editions available of the 1989 animated feature that won two Oscars for Best Music. The digitally restored film is now available in a Diamond Edition Three-Disc Blu-ray 3D combo that includes Blu-ray 3D, Blu-ray, DVD and Digital Copy. The other three editions include Blu-ray and DVD copies, but if you like your digital copies be sure it says so on the package.
This week could also be called the week of multiple editions, with three variations of the the animated film The Croods from Dreamworks, and three different editions of The Wizard of Oz: 75th Anniversary Limited Collector's Edition from Warner Bros. As mentioned above, with all the various editions, be sure you're picking up the right copy.
Check out our picks for the week below. And, as always, here's a link to all new Blu-ray Disc releases available at Amazon.
New on Blu-ray Disc, October 1, 2013
The Little Mermaid (Two-Disc Diamond Edition: 

Blu-ray / DVD + Digital Copy)

The Little Mermaid (Three-Disc Diamond Edition) 

(Blu-ray 3D / Blu-ray / DVD + Digital Copy + 

Music)

The Little Mermaid (Two-Disc Diamond Edition: 

Blu-ray / DVD in DVD Packaging)

The Little Mermaid (Two-Disc Diamond Edition: 

Blu-ray / DVD in Blu-ray Packaging)

This Is The End (Two Disc Combo: Blu-ray / DVD 

+ UltraViolet Digital Copy)

The Croods (Blu-ray / DVD + Digital Copy + Toy)

The Croods (Blu-ray 3D / Blu-ray / DVD + 

Digital Copy)

The Croods (Blu-ray / DVD + Digital Copy)

The Wizard of Oz: 75th Anniversary Edition 

(Blu-ray 3D / Blu-ray / UltraViolet)

The Wizard of Oz: 75th Anniversary Limited 

Collector's Edition (Blu-ray 3D / Blu-ray / DVD 

/ UltraViolet + Amazon-Exclusive Flash Drive)

The Wizard of Oz: 75th Anniversary Edition

Fright Night 2: New Blood

Masterpiece Classic: Downton Abbey 3-Season

Boxed Set (Amazon Exclusive Bonus Features)

ESPN Films 30 for 30: The U

The Amityville Horror Trilogy

Glee: The Complete Fourth Season

From Here to Eternity

The Frozen Ground

House of Wax

The Big Parade