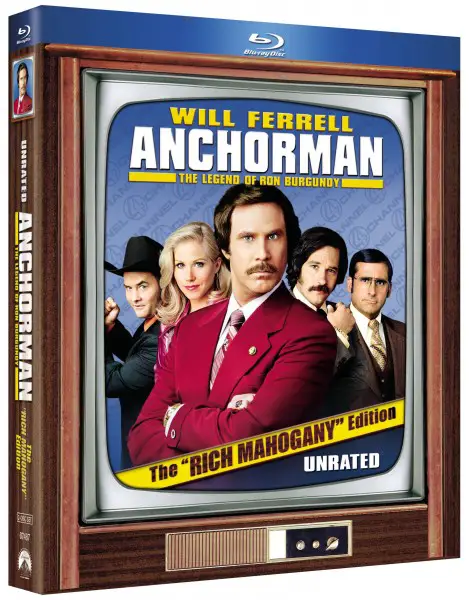 Other than gorging yourself on steak, waffles, french fries, and of course, scotch, there may be no better way to prepare for the Dec. 20 release of Anchorman 2 than by re-watching the masterpiece that started it all. Paramount Home Media Media Distribution has announced Anchorman: The Legend of Ron Burgundy – The "Rich Mahogany" Edition will be coming to Blu-ray on December 3 (watch for our upcoming review).
This appears to be the same package that has been a Best Buy exclusive for three years now. The 2-disc set will feature three versions of the film: the theatrical version, an unrated version and Wake Up, Ron Burgundy: The Lost Movie, all in high definition. "Ultra-classy" bonus materials will include bloopers, table reads, cast auditions, deleted and extended scenes, filmmaker and cast commentary, celebrity interviews, the recording session for "Afternoon Delight" and more.
Starring Will Ferrell as the titular news anchor who is suddenly faced with the encroaching equality of women in the workplace, Anchorman is a hilarious take on the battle of the sexes. The "beloved and treasured film that amazed and inspired a generation" (Paramount's words, not ours, but we happen to agree) also stars Steve Carrell, Paul Rudd, Christina Applegate and Fred Willard.
Specs-wise, the Blu-ray will be is presented in 1080p High Definition with English 5.1 DTS-HD Master Audio, French 5.1 Dolby Digital and Spanish 5.1 Dolby Digital and English, English SDH, French and Spanish subtitles.
Here's how the special features break down by disc:
Disc One:
· Theatrical version of the film
· Extended, unrated version of the film (branched)
· Commentary with Adam McKay, Will Ferrell, Lou Rawls, Andy Richter,
Kyle Gass Paul Rudd, David Koechner and Christina Applegate
· Deleted & Extended Scenes (nearly 50 minutes)
· Bloopers
· "Afternoon Delight" Music Video
· ESPN Sports Center Audition – Ron Burgundy
Disc Two:
· Wake Up, Ron Burgundy: The Lost Movie
· Feature Introduction by Will Ferrell and Aaron Zimmerman
· Public Service Announcements
· Award Speech
· Raw Footage "Good Takes"
· "Afternoon Delight" Recording Session
· Happy Birthday AMC Loews
· Interviews: Rebecca Romijn, Jim Caviezel, Burt Reynolds
· Cinemax: The Making of Ron Burgundy
· Reel Comedy: Anchorman
· A Conversation with Ron Burgundy
· Cast Auditions
· Table Read
· Rehearsals
· Playback Video
· Commercial Break
· Trailers