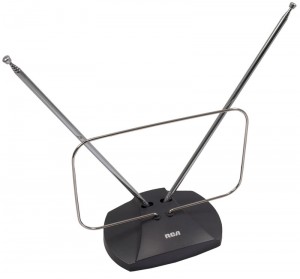 Are you missing your favorite shows on CBS because of the Time Warner Cable and DIRECTV disputes? Try using an antenna to get the local channels free over-the-air. All you need is a TV with a digital tuner (or digital converter box) and an antenna. You simply plug the antenna into the back of your TV's coaxial connection. If your TV has a digital converter box attached, plug the antenna into that coaxial connection first, then into your TV. Since TV signals are all digitally transmitted over the air, you'll need some way to capture those digital broadcasts.
Once everything is connected, select the TV or Antenna input on your TV (not HDMI, Cable, or DVD Player). Then, go to your TV setup menu and find the channel setup. You can manually tune-in to a station or have your TV autoscan and find all the available channels that are free over-the-air in your area. You'll even be able to get the major networks in high-definition including CBS, ABC, NBC, and FOX. PBS broadcasts in HD, as well as some other local networks. If you can't tune-in to CBS, try relocating your antenna or connecting to a rooftop antenna if you have one.
For more detailed instructions on how to set up your TV to get channels over-the-air, refer to this article.
To follow the Time Warner and DIRECTV dispute with CBS, refer to recent articles tagged with CBS.