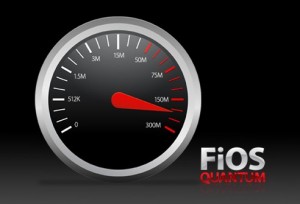 Verizon has begun rolling out 500/100 Mbps FiOS Quantum Internet service in the network's all-fiber-optic markets. How does it compare to typical broadband speeds? Verizon clocks a two-hour 5GB movie in HD at 1.4 minutes on a tablet or PC. At 150Mbps that download would take almost 9 minutes. At 15Mbps, you'd be waiting 45 minutes. An upload of the same 5GB file with Verizon's new Quantum  would take less than seven minutes at 100 Mbps.
The new 500/100 Mbps speed is only available in parts of Verizon's markets upon launch, but the company says it will be made available in all markets throughout 2014.
Verizon's FiOS Quantum internet service now offers speeds ranging from 15/5 Mbps up to 500/100 Mbps. The top tier 500/100 Mbps speed is available as part of a bundle or stand-alone service starting at $309.99 per month.
"Our customers want and get a leg up on online video games. They want to stream movies on myriad devices; share tons of pictures and home videos; and send big work files," said Verizon's Bob Mudge, president of Verizon's consumer and mass business group.