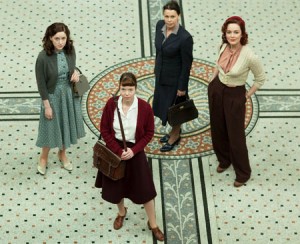 The war between leading streaming video services carries on. Just last week Amazon announced the addition of more PBS shows to the Prime Instant Video library. Today, Netflix announced it's own deal with the non-profit network. The multi-year agreement includes exclusive video-on-demand subscription rights to stream The Bletchley Circle, a mystery crime drama from the UK about four women who look for murder patterns. The agreement will also give Netflix exclusive SVOD rights to the PBS Kids preschool series Super Why!, beginning in 2014.
Additional PBS programs joining the Netflix library include documentaries from director/producer Ken Burns, kid's TV series Arthur, Caillou, and Wild Kratts, and non-fiction shows such as Nova and Secrets of the Dead.
"While PBS stations will always be the first place to see our programming, this agreement with Netflix exposes our shows to new audiences and further expands PBS's presence across all media platforms," said Jason Seiken, General Manager, PBS Digital.
The distribution agreement affects Netflix markets in the US and Canada.