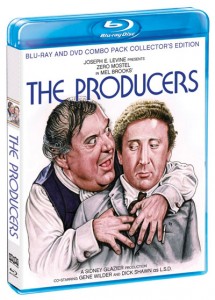 This week Mel Brooks' classic film The Producers with Gene Wilder and Zero Mostel has been released in a Collector's Edition on Blu-ray Disc. The Blu-ray/DVD Combo Pack  includes "The Making Of The Producers" documentary, featurette "Mel And His Movies: The Producers," theatrical trailer and photos.
Universal has re-released a couple iconic Steven Spielberg films from the studio's 100th Anniversary Series. Both Jaws (1975) and E.T. The Extra-Terrestrial (1982) are available in Blu-ray Combo Packs with DVD, Digital Copy, UltraViolet Copy and other extras.
And for the girls, An American Girl: Saige Paints the Sky has been released in a Combo Pack that includes Blu-ray, DVD, Digital Copy and UltraViolet.
New Blu-ray Disc releases, July 2, 2013
The Producers (Collector's Edition)
An American Girl: Saige Paints the Sky
Tower Block
Tai Chi Hero
The Kentucky Fried Movie
Jaws (Blu-ray/DVD/Digital Copy/UltraViolet)
E.T. The Extra-Terrestrial (Blu-ray/DVD/Digital Copy/UltraViolet)
6 Souls
Venus and Serena
The Trouble with Harry
Inescapable
The Curtis Harrington Short Film Collection
The Dick Van Dyke Show: Season 4