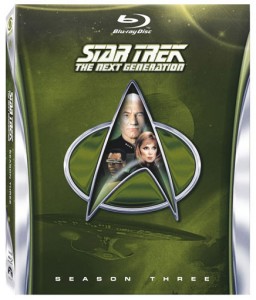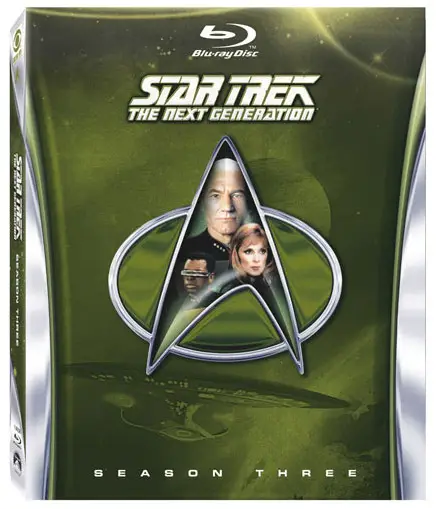 There's been a buzz ever since release date and details were announced for Star Trek: The Next Generation – Season Three on Blu-ray. This week, the six-disc boxed set from Paramount hits shelves, containing all 26 episodes of the 1989-1990 season along with plenty of extras to keep you occupied well beyond the theatrical release of Star Trek Into Darkness next month.
This week a special edition titled Star Trek: The Next Generation: The Best of Both Worlds is also available on Blu-ray and includes an UltraViolet license. The disc presents "The Best of Both Worlds" saga in an extended 90-minute version, and packs some extras such as the featurette "Regeneration: Engaging the Borg," gag reel, and audio commentaries.
A bunch of Star Trek films have also been released as single-title Blu-ray Discs. If you were waiting to buy your Star Trek movie titles à la carte rather than in the Original Motion Picture collection, your favorite films may now be available. Original Star Trek titles on Blu-ray include Star Trek I: The Motion Picture, Star Trek III: The Search for Spock, Star Trek V: The Final Frontier, and Star Trek VII: Generations. TNG motion pictures released in the bunch include Star Trek X: Nemesis and Star Trek IX: Insurrection.
Other non-Star Trek Blu-ray Disc & UltraViolet releases this week include Oscar-winner Silver Linings Playbook, Broken City starring Mark Wahlberg and Russell Crowe, and Friends: The Complete First Season.
New Blu-ray Disc, Digital & UltraViolet releases April 30, 2013
Star Trek: The Next Generation – Season Three
Star Trek: The Next Generation – The Best of Both Worlds (Blu-ray +UltraViolet)
Star Trek I: The Motion Picture
Star Trek III: The Search for Spock
Star Trek V: The Final Frontier
Star Trek VII: Generations
Star Trek X: Nemesis
Star Trek IX: Insurrection
Silver Linings Playbook (Two-Disc Combo Pack: Blu-ray + DVD + Digital Copy + UltraViolet)
Broken City
The Guilt Trip (Two-Disc Blu-ray/DVD Combo + Digital Copy)
Funny Girl (1968)
WWE: The Best of in Your House
Friends: The Complete First Season
History of the Eagles
History Of The Eagles [Amazon.com Exclusive Super Deluxe Limited Edition]
The Men (1950)