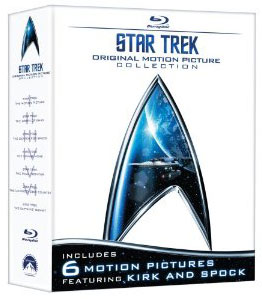 Paramount is releasing the entire Star Trek film collection on Blu-ray disc May 12. The high-definition releases will coincide with the opening of the latest Star Trek film in theaters on May 8.
Star Trek: Original Motion Picture Collection will include all six of the original film productions including The Motion Picture, The Wrath of Kahn, The Search for Spock, The Voyage Home, The Final Frontier and The Undiscovered Country.
The set will contain a bonus disc called "Star Trek: The Captains' Summit" featuring a roundtable discussion hosted by Whoopi Goldberg with William Shatner, Leonard Nimoy, Patrick Stewart and Jonathan Frakes. This box will contain a total of seven discs.
Corresponding with the 6-film box set will be Star Trek: Motion Picture Trilogy which will include The Wrath of Khan, The Search for Spock, and The Voyage Home. The trilogy encompasses what Star Trek fans consider to be a cohesive 3 film storyline. This is a three-disc set.
Hooray for the audio formatting. Both Blu-ray disc sets will feature Dolby TrueHD 7.1 along with Dolby Digital 5.1. However, no hooray for the lack of director's cuts which you can find on the earlier 2-disc DVDs. Extras will include BD Live capabilities, cast commentaries, deleted scenes and original film trailers in HD.