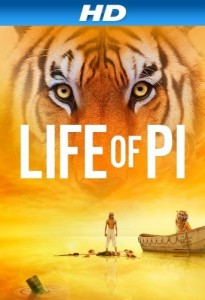 Although still in theaters, Oscar-nominated film Life of Pi is now available to purchase digitally one month earlier than the scheduled Blu-ray Disc & DVD release on March 19. The film, directed by Ang Lee (Crouching Tiger, Hidden Dragon), tells the story of a young man named Pi Patel who befriends a Bengal tiger in an epic mythological journey. Life of Pi was released in the US on Nov. 21, 2012 and remains in theaters including IMAX 3D locations.
On Apple's iTunes, Life of Pi is $14.99 for HD (720p) quality. Amazon is also selling the title in HD for the same price, playable on Kindle Fire HD, Xbox 360, PS3, Roku, TiVO or other Amazon Instant Video HD compatible devices. Vudu also has Life of Pi for $14.99 in either HD or HDX formats. Other play-through platforms include PS3, Xbox 360, Best Buy's Cinema Now, and YouTube.
The early digital release of Life of Pi does not include a 3D format for home viewing.
Twentieth Century Fox tested an early digital release of Ridley Scott's Prometheus last September, which pre-dated physical media by 3 weeks.