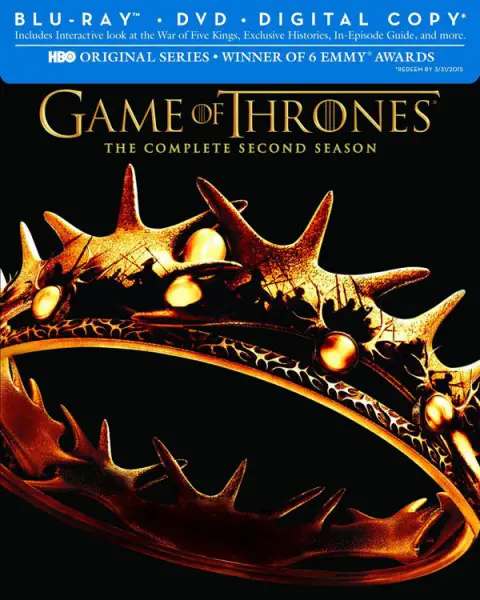 Game of Thrones: The Complete Second Season is available to pre-order from retailers before the Blu-ray and DVD release date on Tuesday, Feb. 19. The Blu-ray 7-disc boxed set from HBO Studios contains all 10 episodes from Season 2, along with extras such character profiles, audio commentaries from cast and crew, and several other production featurettes. The Blu-ray edition packs 5 BDs, two DVDs, and UltraViolet Digital Copy allowing you to watch the show on your PC, tablet or mobile phone.
Game of Thrones: The Complete Second Season carries an MSRP of $79.99, but you can get it for less by pre-ordering. We took a look around to see where the best deal is, but retailers all seem to be on the same page. Amazon, Target, and Walmart all have the Blu-ray Disc edition priced at $49.99, while Best Buy is currently selling it for $59.99 (although they may do a price match in-store).
Game of Thrones is a winner of 6 Emmy Awards and was called "…the best show on television" by Newsday. The series stars Lena Headey (pictured below), Peter Dinklage, Maisie Williams, and Alfie Allen among others.