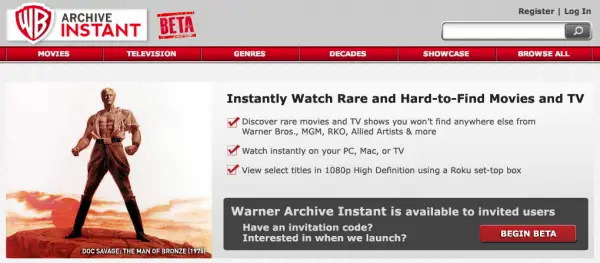 Warner Bros. has stepped into the VOD streaming fray intending to go head-to-head with established streaming video companies such as Netflix and Hulu.  As of yesterday, the company has quietly launched an invite-only site for beta testing, and with the caveat that the service is only available through a PC/Mac (using Microsoft Silverlight plug-in) or Roku streaming media player.  Seems that Warners has entered into a partnership with Roku to act as their HD distributor for all Archive titles (exclusivity is all the rage these days in VOD).
According to the FAQ page for Warner Archive Instant, the service will let subscribers "instantly view hundreds of rare and hard-to-find movies, TV shows and cartoons, culled from Warner Bros. library."  For HD fans, content will be available in 720p and 1080p depending on the title and may feature extra content (if available) like original theatrical trailers.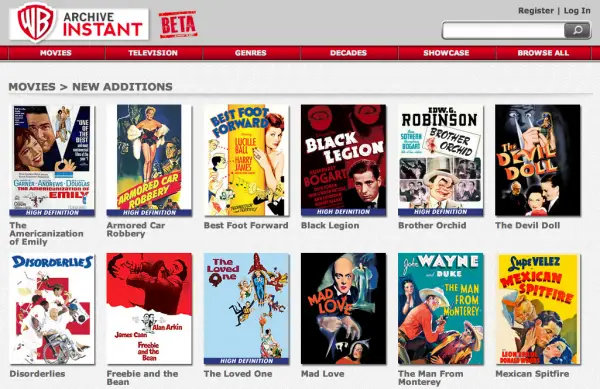 If you're a fan of older films from Warner's vaults this is a real treat, as when Warners opened up their archives for home video back in 2009 their offerings were strictly limited to MOD delivery (discs manufactured on demand and shipped to the film fan who ordered it).  This enabled Warners to release a ton of unseen films on DVD for the first time while bypassing the expense of retail distribution (making loads of copies for potential sale has its drawbacks… ask anyone working an inventory return day at Target or Wal-Mart).  The new streaming service will offer the films direct without Warners having to go through a manufacturing process, with the bonus that Warners intends to create a special Showcase section of the site featuring "a monthly festival-style list of streaming movie marathons."  Nice!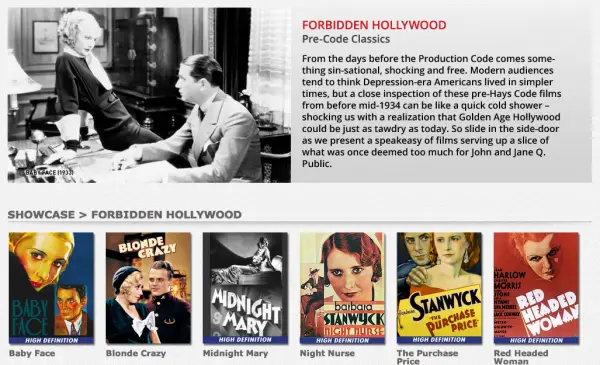 Subscribers will have access to the full Warner Archive Collection that includes films and TV shows from Warner Bros. Pictures, Warner Bros. Television, Turner Entertainment (the Turner library includes Hanna-Barbera, Ruby-Spears, pre-1986 MGM, and RKO Radio Pictures properties), HBO, Lorimar Productions, Allied Artists International, Largo Entertainment and Monogram Pictures releases.  Hopefully, if the service takes off and gains subscribers, Warner Bros. will add other consoles and devices (PS3/4, Xbox, HDTVs, iPhone/iPad, etc.) so that those without a Roku can join in the fun.