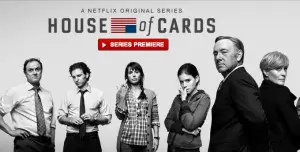 Netflix has made all 13-episodes of House Of Cards available for streaming today.  Produced by David Fincher, Spacey, series developer Beau Willimon, writer Eric Roth, et. al., the series follows Majority Whip, Rep. Francis "Frank" Underwood as he attempts revenge on the President of the United States for not elevating him to a plumb cabinet post as Secretary of State.  Not too far fetched from what goes down with actual politicians in D.C. perhaps, the show is notable for Spacey's typical Kevin Spacey performance (disdainful, witty, acerbic) and Fincher's direction of the first two episodes (other directors include James Foley, Carl Franklin and Joel Schumacher, so each episode is in very competent hands (say what you will about Schumacher, Batfans, but he can command a good cast with style).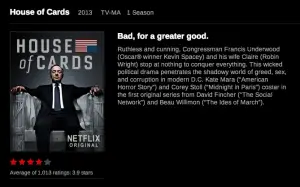 The show is already getting very good reviews, but whether current Netflix subscribers and new subscribers drawn to the show embrace the series remains to be seen.  Netflix had a minor hit with subscribers for a foreign show it acquired (Lilyhammer) and will soon be rolling out a revamped Arrested Development (made to appease an existing, hardcore fanbase) as well as the Eli Roth produced horror series Hemlock Grove and Jenji Kohan's comedy series Orange Is the New Black. 
Will you be watching House of Cards?  Let us know (and your thoughts if you've actually watched some episodes) below.