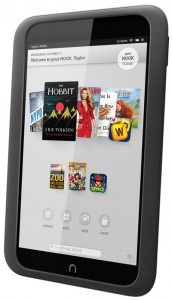 Bookseller Barnes & Noble has revealed NOOK HD and NOOK HD+, two new tablets aimed at competing with Apple's iPad, Amazon's Kindle, and other glossy tablets with high resolution video playback. B&N's new tablets will be available in 7-inch and 9-inch display models, boasting 1440×900 or 1920×1280 resolution, respectively. In regards to HD classification, the NOOK HD supports up to 720p resolution (at 243ppi), while the NOOK HD+ supports up to 1080p (at 256ppi). The tablets house dual-core processors at either 1.5GHz (NOOK HD) or 1.5GHz (NOOK HD+), and support all the available NOOK apps in the NOOK store.
The new NOOK tablets will hit shelves in early November. The 7-inch NOOK HD will retail for $199 (8GB) or $229 (16GB). The 9-inch NOOK HD+ will retail for $269 (16GB) or $299 (32GB). Both tablets also support expandable microSD memory storage.
Barnes & Noble also announced they will launch their own cloud video service sometime this fall, which will allow customers to stream video to NOOK tablets as well as other supporting devices. NOOK Video, as it's called, already has content deals in place with HBO, Sony Pictures, STARZ, Disney, Warner Bros., and Viacom. The service will also support the UltraViolet format, allowing you to link your present account with NOOK Video and download content from the NOOK cloud.
Just a few titles that Barnes & Noble says will be available on NOOK Video include Brave, Toy Story 3, Marvel's The Avengers, 21 Jump Street, Breaking Bad, and Game of Thrones. We haven't heard what the NOOK Video service will cost, but expect a subscriber fee to be competitive with HULU and Netflix at around $7.99 per month.