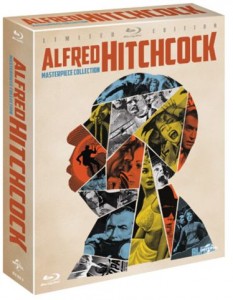 The Blu Ray vanishes!  If you were waiting, spellbound, for the Alfred Hitchcock Masterpiece Collection on Blu-ray, it appears you'll be waiting until October 30th.  Due to production problems already noticed with the British release of the Blu-ray version, Universal is pulling back from the original September 25th. street date.
Universal issued the following statement on their troubles with Hitch:
"Universal Studios Home Entertainment is postponing the Blu-ray release of Alfred Hitchcock: The Masterpiece Collection to October 30, 2012. Certain imperfections with the product have come to light and, as a result, we are delaying the release date to correct these points. Our goal is to always deliver the best possible product to our consumers."
Universal, which scored a Blu-ray hit with both critics and fans on the release of Jaws back in August, has had its share of missteps with Blu-ray releases, even during its 100th Anniversary year.  Most will point to The Sting (released in June of this year) as a case study in what not to do to a classic film even when attempting to "restore" it.  Certain studio releases on Blu have become notorious for excessive restoration work, even where it may not be needed, including the removal of any and all grain (as if film grain were a bad thing), an over-emphasis on digital noise reduction (DNR), post-work on color timing that doesn't jibe with the original release, and a variety of audio issues that most general audiences tend to miss or take for granted but that has fans and cineastes going psycho and venting their displeasure online.
Using this 100th anniversary year to highlight a number of classics from their extensive film library, Universal has tried to go the distance for fans with 4K restorations of certain films, but it's evident that, in their quest for perfection on Blu, they may have made the films too perfect to the point of removing even the tiniest release print emulsion defects and grain (or the type of image noise that one tends to associate with actual film stock), a look that cineastes and even average filmgoers tend to appreciate.  This is less of a concern regarding contemporary movies, especially in the age of digital release prints, but for older films part of their charm, at least in our own sense-memory, is the feeling of watching something with that "filmed" look.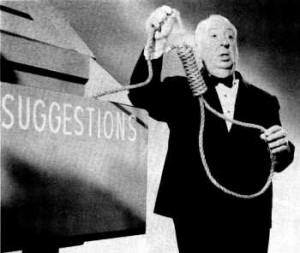 Nick Wrigley, a blogger who obviously knows too much about such things, has jotted down some notes at his Enthusiasm.org website, listing a slew of problems with most of the discs.  In particular, he noted issues with the credit sequence of Frenzy where the font was changed beyond a shadow of a doubt, apostrophes and quote marks were changed to a simpler computerized font rather than the traditional stylized type, and glaring misspellings (even actor and crew member names) are evident.
Wrigley is quite unhappy with all of this, and makes the case for cinema lovers and fans of the Master of Suspense:
"We're not seeing the film as released in 1972 and signed off by Hitchcock, we're seeing an approximation of the opening titles, the text of which looks like a PS3 videogame, completely static, with digital fades between each piece of text. All done in a vain attempt to make the opening credits look a little better than they probably do, and to save cleaning up the original."
Beyond digital clean-up issues that proved too glaring on the Frenzy disc (such as flickering, smearing or blurring during fast moving action or any "motion" scenes where characters might move quickly, complete lack of grain that achieves a plastic look on characters and a "paused" look during static shots), Wrigley also noted that the other discs simply do not live up to the standard Hitchock fans, let alone most fans of the Blu-ray format, would accept.
In addition to DNR (or DVNR) Wrigley also noticed other HD mastering issues on certain discs such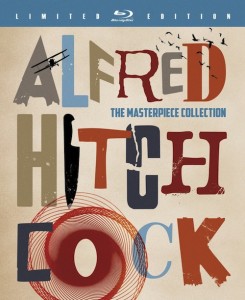 as brightness fluctuations, introduction of digital noise or "snow" to possibly make up for lost film grain that tends to create an abnormal looking "gauzy" effect, and a restoration job on some discs (such as The Birds) that falls flat in 1080p with glaring inconsistencies in image quality (color, grain, etc.).  This tends to render much of Hitchcock's painstakingly–  achieved cinematography and special effects unsuitable for viewing the way they were originally intended.
Blu-ray has always been touted as the be-all, end-all for home viewing (at least until the next home media platform comes into being or VOD in HD finally takes off with a library of films at your fingertips), and when fans buy Blu they expect not only high quality, but preservation quality product… something that should last a lifetime and offer reference quality image and sound that can stand alongside the theatrical release as the preferred way to see the movies we love. It's nice to see Universal take a step back and confess that, yes, there probably are some errors with the discs, and that since they value the Hitchcock films so much, they've decided to hold off on releasing a collector's set of inferior quality.
Once released on October 30th, the set will include 15 Hitchcock films:
Psycho 
The Birds 
Vertigo 
Rear Window
North by Northwest
The Man Who Knew Too Much 
Marnie 
Saboteur 
Shadow of a Doubt 
Rope  
The Trouble With Harry 
Torn Curtain 
Topaz 
Frenzy
Family Plot
Extras include a 50-page book, slipcover case
Disc extras include commentaries, interviews, trailers, deleted scenes, featurettes and the new documentary The Birds: Hitchcock's Monster Movie.