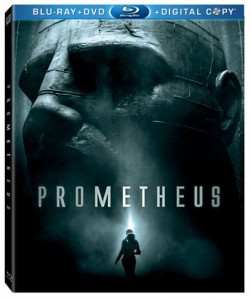 When we first talked about Prometheus on Blu-ray & DVD it was before the film even hit theaters, when Amazon announced they were giving away free movie tickets to the first 5,000 customers who pre-ordered the film (although find me a customer who got tickets and I'll give you a lollipop). At that time, a street date for the discs and digital copies hadn't been announced, so pre-ordering was a bit of a venture. Now we know the release date for Prometheus is Oct. 11, and that the film will be available in three editions including a single-disc DVD, Blu-ray Combo with DVD and Digital Copy, and Blu-ray 3D with Blu-ray, DVD, and Digital Copy.
It should also be noted that FOX broke tradition by revealing they would release Prometheus on UltraViolet two week before Blu-ray, DVD and On Demand sales. This will be the first title FOX offers in the cloud-based format. The title is expected to sell for $14.99 in HD quality, which is about $5 cheaper than the typical $19.99 sticker for a new release.
The DVD, Blu-ray, and Blu-ray 3D editions of Prometheus are listed at $29.99, $39.99, and $49.99, respectively. However, Amazon has got them significantly discounted. At this point we don't have confirmed UltraViolet or Digital Copy prices, but will let you know as soon as we do.
[UPDATE] Prometheus is supposedly available to purchase digitally on several different internet platforms starting today including Amazon, CinemaNow, iTunes, PlayStation, VUDU and Xbox. You can get direct links from the FOX Digital HD (DHD) website.