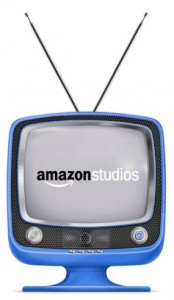 Amazon Studios has announced the first four titles to be developed for the Amazon Studios Series Development Slate which will run on Amazon's Instant Video service. The titles were found through Amazon's call for original scripts for movies and TV shows. Movie scripts that are submitted may possibly make it to theaters, as Amazon Studios has a "first-look" deal in place with Warner Bros. The first selected series include three adult comedies (The 100 Deaths of Mort Grimley, Doomsday, Magic Monkey Billionaire) and a children's show titled Buck Plaidsheep. See full descriptions below or learn more at Amazon Studios.
Amazon Studios Series Development Slate (titles as of June 25, 2012)
Magic Monkey Billionaire When their magician owner dies after winning the lottery, Rabbit and Monkey are shocked to learn that he left his money to happy moron Monkey and donated evil genius Rabbit to a 2nd grade class. In each episode, Rabbit hatches a plan to steal Monkey's billions.
Buck Plaidsheep Buck Plaidsheep, the courageous critter from Fleecy farm, will face any danger and solve any problem. Armed with a variety of vehicles, whether it be a jet pack, rowboat, hang glider or even a jeep, he always has the best vehicle to get the job done.
Doomsday This comedy mockumentary follows Gabriel Bell, a new age prophet, conspiracy theorist, public speaker, and self-proclaimed 'Wisdom Warrior,' as he seeks to spread the word of (and perhaps even generate a little money from) his prophecy that the world will end on December 6th 2012. We also explore the lives and supposed final days of four fans of Gabriel, who all believe in his theories for very different reasons.
The 100 Deaths of Mort Grimley In this animated comedy, Hell desperately needs new customers. Mort Grimley, a middle-aged suicide, is forced by Belphegor, Hell's corporate slave, to get 100 more people to kill themselves or be doomed to spend eternity right next to the cruel mother he tried to escape.