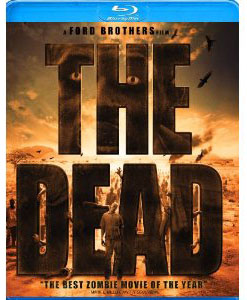 You'd think on Valentines Day there might be a better selection of new Blu-ray Discs and DVDs in the "Romance" genre. Instead, we find a strange assortment of titles that are hardly in the mainstream. Heck, most titles would fall into the shadow of last Saturday's release of The Twilight Saga: Breaking Dawn, Part I. anyway. So here's a few mentionable titles this week.
At the top of Amazon's most popular Blu-ray Discs this week is Johnny Depp in The Rum Diary, a comedy/drama about an American journalist in Puerto Rico during the 1950s. From the Ford Brothers the 2012 zombie film The Dead is now on Blu-ray Disc. Criterion Collection drops the classic samurai film Three Outlaw Samurai (1964) on Blu-ray Disc which includes a new English subtitle translation, trailer, and booklet with essay by film critic Bilge Ebir. And, Mike Judge returns with 12 new episodes of Beavis & Butthead from the 2011 Fall season in Beavis & Butthead: Volume 4 on Blu-ray Disc and DVD.
Our Blu-ray pics this week (most of which we suggest for rental):
The Rum Diaries
Take Shelter
The Dead
Beavis & Butthead: Volume 4
All Quiet on the Western Front Collector's Series [Blu-ray Book + DVD + Digital Copy]
Doctor Who: The Doctor, The Widow and the Wardrobe
Three Outlaw Samurai (The Criterion Collection)
The Lorax (Two-Disc Blu-ray/DVD Combo + UltraViolet Digital Copy)
Here's a link to all new Blu-ray Disc releases available at Amazon.com.