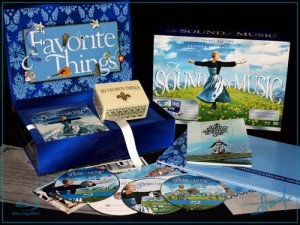 See, there are these hills. And apparently, from what I'm told, they are alive–with the sound of music. Cleanse all of that Super Bowl machismo out of your system with Amazon's Blu-ray Gold Box Deal of the Week: The 45th anniversary Blu-ray/DVD combo limited edition of The Sound of Music is now just $28.99 through February 12. Buy it here.
Do a few of your favorite things consist of 1080p video, DTS-HD 7.1 audio, and oodles of extras? Excellent; then this box set of the 1965 musical classic is destined to find its way to your shelf of guilty pleasures.
This is a 3-disc set (2 Blu-rays and a DVD), and the features include: Your Favorite Things: An Interactive Celebration — all-new immersive viewing experience with behind-the-scenes images, on-screen lyrics, trivia track and location quiz; Music Machine Sing-Along; Musical Stages: Creating The Sound of Music — all-new interactive "backlot tour" with in-depth featurettes on the songs, the stage show & movie, the film and sound restoration and the real-life von Trapp family; and more! Plus, factor in the 45th anniversary soundtrack; 100-Page "My Favorite Things" scrapbook; Snapshots from Salzburg; Reproduction of the original 1965 Souvenir program; and an exclusive "My Favorite Things" Music Box with letter of authenticity, and you've got more Rodgers and Hammerstein than any human being can possibly know what to do with.