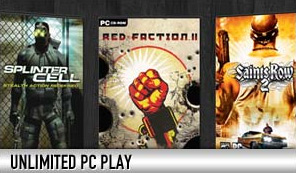 Gamefly has launched their public beta for a new PC gaming client. If you're a subscriber, you can download titles from Gamefly's "Unlimited PC" library and play unlimited times at no charge. Assassin's Creed, Jewel Quest, and Deus Ex are mentioned as titles free-to-play for subscribers. The PC client also provides news, screenshots and game videos (in HD quality) to users.
Over 1,500 PC titles (some Mac titles included) will also be able to be purchased and downloaded through Gamefly's Android and iOS apps, and on Gamefly.com. Check out a list of current publishers below, and download the app on the Gamefly website here. http://www.gamefly.com/download-games/GameFlyClient/
"We are thrilled to finally be able to open up the beta so anyone interested in video games can start using the client, and we are hard at work expanding our catalog of PC titles for our users to play for free in the Unlimited PC Play section," said GameFly co-founder, Sean Spector.
Here's a list of current Unlimited PC Play game publishers:
1C
2D BOY
Atari
Bohemia Interactive
Capcom
Iceberg Interactive
Interplay
iWin
Kalypso Media
Layernet
Legacy Interactive
Meridian4
MumboJumbo
Paradox Interactive
PlayFirst
Playrix
SelectSoft
SouthPeak Games
Spicy Horse
Square Enix
Strategy First
Telltale Games
THQ
Ubisoft
Viva Media