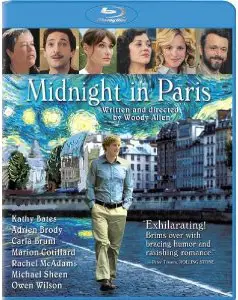 Woody Allen has got quite a few films under his belt but not all hit the sweet spot like Midnight in Paris has. The 2011 romantic comedy starring Owen Wilson among an all-star cast has made $128 million on a $30 million budget. Dolphin Tale (2011) is a good family movie that stars Morgan Freeman, Ashley Judd and Nathan Gamble. The film tells the story of a boy who befriends a dolphin that lost it's tale in a crab trap. And, Colombiana is a film about a young woman who watches her parents get murdered and turns into a assassin. The film stars Zoe Saldana (Avatar, Star Trek) and the Blu-ray Disc includes a free Ultraviolet digital copy.
New on Blu-ray Disc Dec. 20, 2012:
Midnight in Paris
Dolphin Tale
Warrior
Glee: The Concert Movie
Time Machine 2011: Live in Cleveland (Rush)
Margin Call
Glee: The Concert Movie
Straw Dogs
Futurama 6
Heaven's Lost Property: Complete Series
Use the following link for all new Blu-ray releases this week available at Amazon.