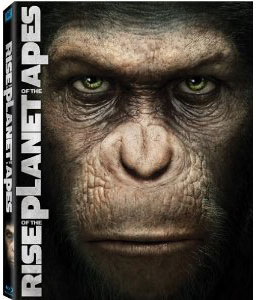 It's another good week for Blu-ray Disc releases with several must-haves for your library. I mean, how can you not make "Rise of the Planet of the Apes" part of your Blu-ray collection? The film has given the "Planet of the Apes" franchise new life and and we're pretty sure everyone is excited for the sequel after the film's exceptional cliffhanger.
"Kung Fu Panda" fans can get more Jack Black voiceovers with the release of "Kung Fu Panda 2" including the new Po adventure "Secrets of the Masters" on Blu-ray Disc. The film is available as a Blu-ray/DVD Combo with Digital Copy or "Kung Fu Panda/Kung Fu Panda 2/Secrets of the Masters" boxed set.
A few more mentionables this week. Peter Jackson's '94 drama "Heavenly Creatures" is now on Blu-ray. Based on a true story the film stars Academy Award winner Kate Winslet and Melanie Lynskey as two teenage girls who commit murder. Judy Garland fans might want to check out the high-def release of 1944's "Meet Me in St. Louis" — a film that some consider the best American musical of all time. And, if you haven't added any "Transformers" movies to your Blu-ray collection yet you might consider the new three-disc boxed "Transformers Trilogy."
Here's our Blu-ray picks this week – buy 'em or rent 'em:
Meet Me in St. Louis (1944)
Kung Fu Panda 2 / Secrets of the Masters
The Rocketeer: 20th Anniversary Edition
Fright Night (Two-Disc Blu-ray/DVD Combo)
Fright Night (Three-Disc Combo: Blu-ray 3D/Blu-ray/DVD + Digital Copy)
The Legend Is Born: Ip Man
The Expendables
Heavenly Creatures
Transformers Trilogy
City of God
Here's a link to all new Blu-ray Disc releases for the week of Dec. 13, 2011.