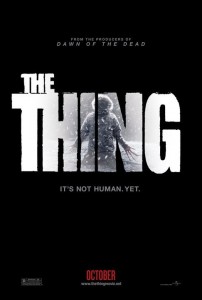 Universal's 2011 remake of the 1982 cult classic The Thing has been announced for release on Blu-ray Disc and DVD on January 31, 2012. The disc editions will contain deleted and extended scenes, featurettes "The Thing Evolves" and "Fire & Ice," and commentaries from the producer and director. The Blu-ray Disc edition will contain extras such as the UltraViolet digital copy, BD-Live, and pocket BLU app. High definition video resolution is presented in 1080p at 2.40:1 widescreen aspect ratio. Audio is formatted in English Dolby Digital 5.1 on the Blu-ray, and DTS-HD Master Audio 5.1 on the DVD.
The Thing stars Mary Elizabeth Winstead (Scott Pilgrim Vs. The World) as paleontologist Kate Lloyd who, along with the crew's pilot Carter (Joel Edgerton, Warrior), discovers a mysterious organism buried in the ice.
Use the following link for a list of movies with UltraViolet digital copy.
View more details on the disc releases by clicking the Show Press Release link below.