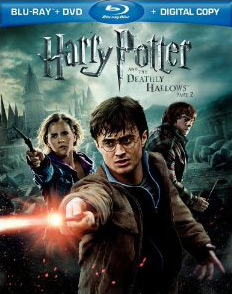 We're giving away a copy of Harry Potter and the Deathly Hallows, Part 2 (Three-disc Blu-ray/DVD Combo with UltraViolet) to one HD Report reader. Simply "LIKE" our FaceBook page and comment on at least one link, status, video, photo, or question between Nov. 1 and Nov. 11 to be eligible. Chances of winning are not increased by multiple entries. The winner will be chosen at random and will contacted via FaceBook for shipping information. Only legal U.S. residents aged 18 or older can take part in the giveaway. Prize will only be shipped within the 50 states (Hawaii and Alaska included). No purchase is necessary. (See Rules)
The Prize:
Harry Potter and the Deathly Hallows, Part 2
(Three-Disc Blu-ray/DVD Combo + UltraViolet Digital Copy)
Extras include:
Harry Potter and the Deathly Hallows, Part 2 includes Instant Streaming with UltraViolet Digital Copy
Maximum Movie Mode hosted by Matthew Lewis (Neville Longbottom) and other cast members
A Conversation with JK Rowling and Daniel Radcliffe
The Goblins of Gringott's
The Women of Harry Potter
Warner Bros. Studio Tour (London)
Additional Scenes
Here's another link to our Facebook page. Simply "LIKE" the page and comment on at least one link, status, video, photo, or question between Nov. 1 and Nov. 11 to be eligible.