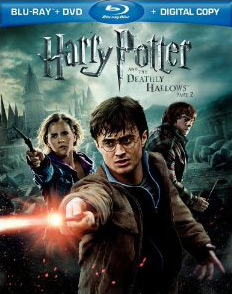 Warner Bros.' Harry Potter and the Deathly Hallows, Part 2 with UltraViolet digital copy will be a true test of the format when the Blu-ray Disc releases on Nov. 11, 2011. UltraViolet is a cloud-based digital library that allows you stream or download movies you have license to. You'll be able to tell which movies or TV shows are eligible by the UltraViolet logo on the product, online and in stores.
Currently, only Warner Bros.' Green Lantern and Horrible Bosses offer the UltraViolet copy. But before the end of the year, Cowboys & Aliens and Final Destination 5 among several other titles will contain a code to stream or download a copy, (even in HD quality). And, according to the UltraViolet Alliance, the technology will soon be available on titles from Sony Pictures Home Entertainment (12/02/2011) and Universal Pictures (12/06/2011).
So far, Ultraviolet has been getting poor reviews on Amazon, with most reviewers referring to the hassle of having to sign up for both UltraViolet and Flixter, which apparently don't share the same information and lack appropriate customer service. One reviewer says "I have spent 4 days now trying to get this so called "digital copy." Reviews also complain about the inability to view the digital copy in iTunes, trouble playing on smartphones and devices other than PCs, and data usage (for those who have bandwidth caps).
In concept, a cloud-based service which holds all your movies seems promising. Instead of storing all your digital movies (which take up a ton of space) on your PC or hard drive, you'll be able to stream them while connected to the internet or download them to watch later.
However, Warner Bros. needs to fix all the issues that currently haunt the new format before Harry Potter and the Deathly Hallows, Part 2 is released. The massive franchise release could either "make or break" the format. The tie-in with Flixster seems to be a confusing obstacle for even the most savvy of digital movie viewers.
Flixster is a social movie site that was founded in 2007 and acquired by Warner Bros. in May, 2011.