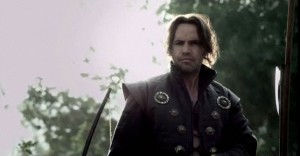 The Scorpion King 3: Battle for Redemption has been announced for Blu-ray Disc and digital download on January 17, 2012. The third in Universal's The Mummy franchise, 'The Scorpion King 3' stars Ron Perlman (Hellboy), Billy Zane (Titanic) and Victor Webster (Surrogates). In 'Battle for Redemption' the dethroned king Mathayus tries to regain his empire, facing both real and supernatural enemies.
The Scorpion King 3: Battle for Redemption packs several bonus features on both the Blu-ray Disc and DVD including deleted scenes and extended scenes, behind-the-scenes production footage, and feature commentary with director Roel Reine.
The Blu-ray/DVD Combo pack features additional extras including BD-Live, the pocket BLU app, and a digital copy. The Blu-ray is formatted on a BD-50 at 1.78:1 widescreen aspect ratio with DTS-HD Master Audio 5.1 Surround. The DVD is formatted in 1.78:1 anamorphic widescreen with Dolby Digital 5.1 for audio.